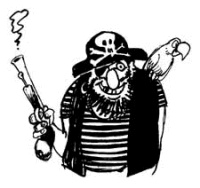 President John Agyekum Kufuor of Ghana has announced that in his country, drugs and piracy will be treated the same, with former narcotics officials set to go after counterfeit goods as well.
"This insidious crime of product counterfeiting has become a global phenomenon; it's no longer the canker of the under-developed or developing world,"
president John Agyekum Kufuor recently said,
"The developed world is also battling with counterfeiting products albeit at a scale lower than in our part of the world".
According to a Ghana News Agency (GNA)
report
, the Criminal Investigation Department of the police will begin to "handle counterfeiting and piracy crimes as drug trafficking" effective immediately.
There are however, many glaring problems with this latest announcement. Drug trafficking has never been adequately stopped, in any country in the world, and certainly a drug such as heroine or cocaine should be easier to find then a counterfeited software
CD
intended to look exactly like the original. Narcotics crimes are federal offenses everywhere whereas piracy is not, except in certain circumstances. Another bandage on a cut that will never be closed.