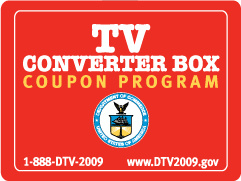 If you're in the US it's hopefully no surprise to you that most analog TV signals will be turned off on February 17, 2009. Unfortunately the government has done a particularly poor job of educating the public about what (if anything) needs to be done to prepare.
Fortunately the information you need is easier to understand than you might expect. Our new guide,
Preparing for the US DTV Transition
, should answer most of them. It will walk you through everything you need to know to determine whether you're ready or not. If there are steps you need to take it will also explain them to you.
Whatever you do, don't wait until the last minute to prepare. If you wait too long you may suddenly find that you need a converter box or antenna that
isn't in stock
at your local retailer. In order to make sure you can watch TV with no interruption you should act as soon as possible. There are fewer than 200 days left.