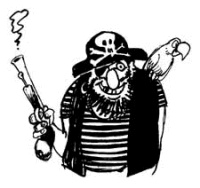 The
Motion Picture Association (MPA)
hailed the results of
Operation Takedown
on Monday. The effort against piracy over the summer
brought in huge hauls of pirated materials
and led to many arrests. In China, Malaysia, Korea, the Philippines, Thailand, and Taiwan, 461 suspected pirates were arrested as part of the efforts. More than 7.5 million pirate CDs and DVDs were seized along with 1,000 burners.
The MPA conclusions show that 56 people were caught attempting to record movies in theaters, an activity known as camming or camcording, that is the main source of early pirate copies of movies. The MPA notes that
"governments across the [Asia-Pacific] region began to tighten their laws on camcording,"
which involved public-outreach and award campaigns.
Police officers in plain clothes patrolled cinemas in Hong Kong, while staff used night vision goggles to monitor the crowds in theaters and look for recording equipment. Employees at movie theaters around the world are being trained to spot efforts at recording movies, and arrests carried out as a result have increased.
The
MPAA
claims that the industry lost $6 billion to piracy in 2005.