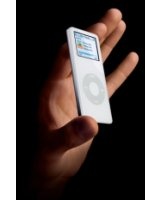 As we have
previously reported
, Japan's trade ministry issued a warning on Tuesday that three fires have been linked to overheating
iPod Nano
units from
Apple Inc.
, possibly due to a battery defect. Apple has responded by promising to replace faulty over-heating batteries from first-gen iPod Nano models in Japan.
"We will replace batteries of the first-generation iPod nanos with new ones if customers find that the batteries overheat,"
the Apple Japan spokesman said. The offer is only for batteries that actually do overheat.
"We are still investigating the cause of the glitch, but we've identified one particular supplier of the batteries,"
the spokesman said.
Apple is
aware of 17 overheating cases in the country
related to the iPod Nano. The company sold 1.81 million of the models between September 2005 and September 2006. Previously, Apple warned that most models of iPod can overheat if they are charged in certain protective cases. The line-up uses
Lithium-Ion
batteries, which are common in consumer electronics products, and have had to be recalled by many companies due to overheating issues.