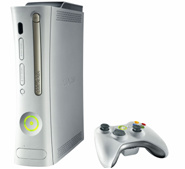 Microsoft
has partnered up with
Rock the Vote
to help the group reach its lofty goal of registering two million under-30 voters in time to vote for the next US Presidential elections.
Starting today, the political advocacy group will enable all
Xbox
360
console
owners to register to vote through their consoles. Rock the Vote will also introduce PSA video through the
Xbox Live Marketplace
.
XBL is estimated to have 12 million users, with over 8 of those active on a monthly basis and Rock the Vote is hoping their move will benefit the country. Rock the Vote's executive director Heather Smith
added
"We need to go where young Americans are, and there's no doubt in our minds that many are on Xbox 360 and Xbox LIVE."
On the other side of the spectrum, Microsoft will be hitting both the Democratic and Republican conventions to "educate" politicians on gaming and the Xbox 360's Family Settings which they claim will help keep all inappropriate material out of the reach of those under 17.