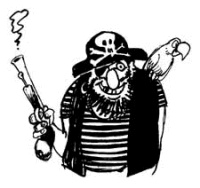 Three more software counterfeiters have pleaded guilty to charges of piracy and agreed to forfeit over $1 million USD in cash and computers. Each faces up to three years in prison.
According to the U.S. Department of Justice, the three men, Thomas Rushing III, 24; Brian Rue, 29; and William Partridge, 24; brought in $2.5 million USD in revenue over the last 28 months however the courts said it was closer to about $1.2 million USD.
The men used a few different online shops including valuesoftwaresales.com, esoftwarevalue.com, allsoftwaredownload.com, and priceslashsoftware.com to sell counterfeit copies of
Adobe Photoshop
and
Flash
which are normally very expensive programs and are usually in high demand.
The DOJ
press release
says the three pirates promoted their businesses heavily using ads on search engine market share leader
Google
.
The three have so far plead guilty to 32 felony counts of software counterfeiting, piracy and copyright infringement. The counterfeiters were arrested after a lengthy investigation by the
Business Software Alliance
and Adobe.