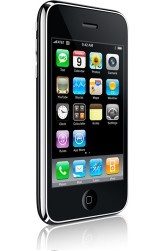 In response to mass consumer complaints about overall "sluggishness" of their
iPhone 3G
handsets,
Apple
has released
firmware
update 2.1 which adds new features as well as "fix many bugs" that consumers have complained about.
The update should improve "the accuracy of the 3G signal strength display, as well as decrease the number of dropped calls." The last point so much of a complaint that it even led to a lawsuit against Apple. CEO Steve Jobs has said that the problems only affect "a few percent" of iPhone users however.
Other users complained of their phone crashing after downloading applications from the
App Store
but Apple says that it should no longer be a problem as the update will make the App Store more reliable and installations of the apps quicker.
IW adds
that
"users with the updated firmware should have a reduced time backing up the handset before syncing with iTunes. Additionally, contacts and searches should load quicker, and the virtual QWERTY keyboard is supposed to be much more responsive."
Apple also added that email reliability and speed would be enhanced, most notably with
POP
accounts. Security got a slight upgrade giving users the option to have their sensitive data wiped after 10 consecutive failed password attempts.
The update also brings the "Genius" playlist to the iPhone which automatically creates playlists based on the song you are playing at the time. It will not create music based on the
iTunes
store however, just on the music you have on the handset.