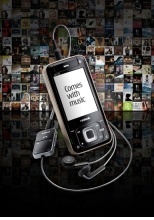 According to new reports,
Nokia's
'Comes with Music' unlimited mobile download service may cost as high as $150 USD, although the price would be a premium on top of the cost of the handset.
The price in North America is likely to be $100 USD though as
Nokia
generally sells their phones for cheaper outside of Europe.
The new reports come from UK smartphone retailer
Expansys
and gives the best insight into pricing we've seen since Nokia's announcement last winter.
For those unaware, the Comes With Music service is a flat one time fee bundled with the cost of the handset which then allows users to download unlimited music tracks for a year and keep them forever after that.
Expansys is selling the
Nokia N95 8GB
for £395 or £480 with the service included but we will know the official prices soon from Nokia.