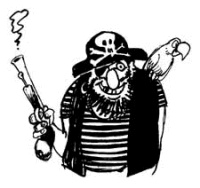 According to the Department of Justice, another member of the once prominent
warez
scene group
aPOCALYPSE pRODUCTION cREW (aPC)
has been sentenced to 18 months in prison after being convicted of "Conspiracy to Commit Criminal Copyright Infringement."
Barry Gitarts, otherwise known as "Dextro", is the 15th person to receive jail time for their part in aPC.
The group was founded in 1997 and is generally known as the first organized warez group that uploaded CDs and MP3s to the Internet. aPC became well known in the scene for their pre-release uploads of CDs which they had acquired from magazine workers and music industry insiders.
The group, and its administrators and uploaders, were taken down as part of
Operation Fastlink
in 2004.
Gitarts was given the stiff sentence because he was
found
to have operated and financed a server in which the group strored "thousands of music files, movies, games and software."