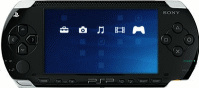 Sony
has confirmed that it will be giving Japanese
PSP
users direct access to the
PlayStation Store
via the handheld's built-in Wi-Fi connection.
Beginning on October 15th, users will be able to use the store to purchase and download any game that would normally only be available on
UMD
from that point forward. The downloads will have faster loading times and get rid of the need to carry around the physical UMD.
There will also be add-ons and in-game items available from the store for current games as well as future games.
No word was given on whether users could download movies or music but the company did promise "more network services" for the handheld by the end of 2008.
There was no word on European or North American launches but it is safe to say we will see the update at some point.