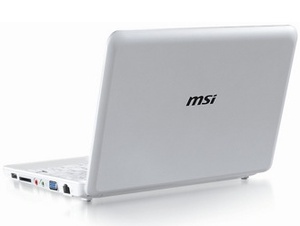 We have reviewed three netbook models from some of the largest netbook - and laptop - manufacturers in the world. Among the three models we received are the Asus Eee PC 901, Acer Aspire One 110 and MSI Wind U100. You can read other two reviews via the links below and the wrap-up from here. The tests did not cover all the aspects of computing and only scratch the surface of the three devices. Still, if you are interested in buying a netbook at some point, maybe these reviews can point you in the right direction.
*
Asus Eee PC 901
*
Acer Aspire One 110
*MSI
Wind U100
Hands-on
MSI
Wind U100 is the lone 10" laptop amongst the three we tested. With a bigger display you'll obviously have to compromise for a larger and heavier device. Size is not all bad, and an inch wider keyboard can make all the difference. Even though it is almost a third heavier than the other two, the weight distribution seems better than, for example, the Eee PC 901 which is prone to falling back. MSI's netbook is also the only one with a traditional hard drive instead of SSD.
The package only includes a two piece AC adapter. The U100 model sports a good quality finish; it doesn't squeek or creak and it doesn't look cheap.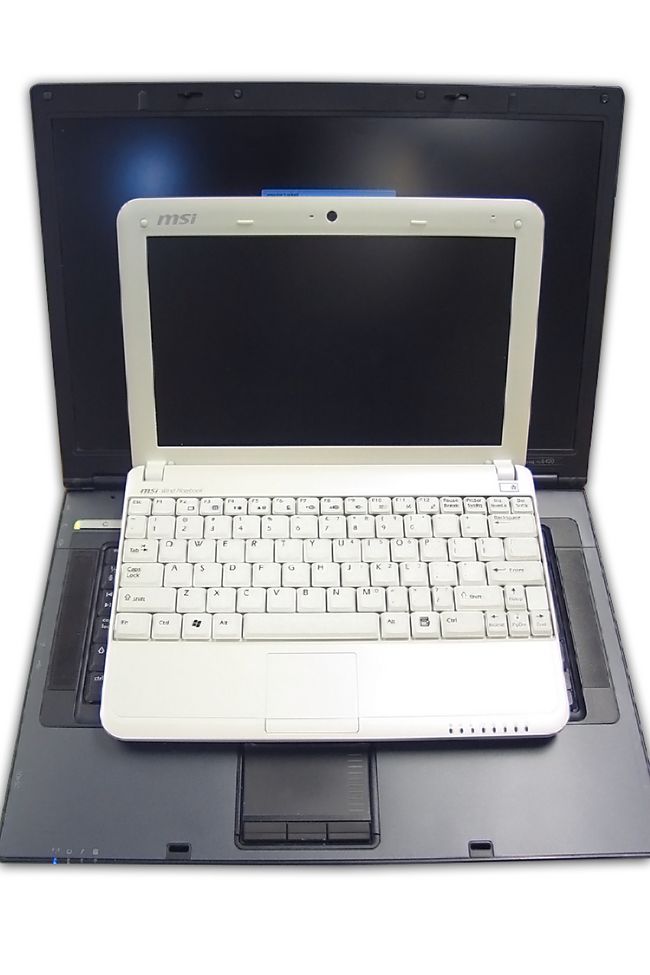 MSI Wind U100 on top of a 15"
HP
Technical specifications
MSI Wind U100
-1,6GHz
Intel
Atom
-
1GB DDR2
-10" display (1024x600)
-Intel GMA 950
-80GB HDD
-5200mAh 6-cell Li-ion battery
-Windows XP Home Edition
-1.3 mpix webcam
-802.11b/g WiFi and Bluetooth
-3 USB-ports, VGA-output, microphone and audio outputs, and an ethernet connector
To test out performance, we ran some games, played some video with
VLC
Media Player and used other processes to test heavy-load performance. In normal use, the Wind didn't show any signs of slowing down, but when we upped the ante we got some hiccups with the browser and the Operating System. However, this is pretty much in line with what we expected when taking the specs and the
Windows
operating system into account.
Wind U100 is no exception amongst the netbooks, it is nowhere near being a full fledged
HD
media player. Still it will meet the needs of most users with the
SD
resolution
video playback (at least up to 960x544 resolution). The only HD content that played without a low-
framerate
was a
720p
DivX-encoded video in the
AVI
container
.
MPEG-4
AVC/H.264 video with a 720p resolution required more resources than the model could offer; just the same as it was for the two other netbooks. One thing that is worth a mention is that with the 10" display it is clearly more enjoyable to watch videos on Wind compared to 8,9" Asus and Acer.
In our brief games test we had the same
FIFA 09
demo as we did on Eee PC. Unfortunately for an unknown reason we didn't get it to run and decided to jump to another demo to save some precious time. The
WALL-E
demo was next in line. Even though it is hardly comparable to FIFA 09, WALL-E ran pretty smooth and at stabile framerate. Overall WALL-E on U100 and FIFA 09 on the Eee PC left an impression of equal performance, which is not a surprise as they have pretty much identical specs.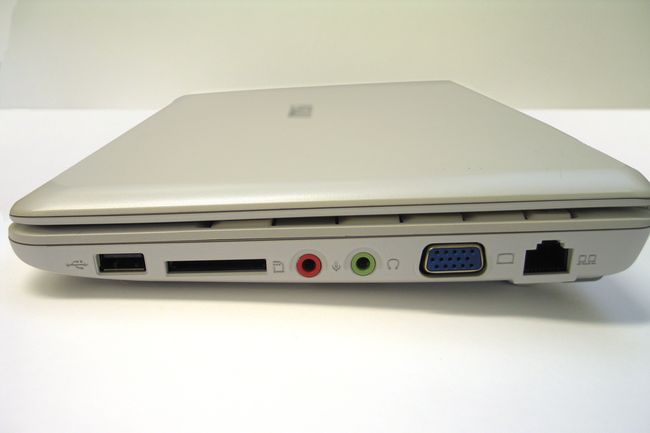 Most of the connectors are on the right side
Usability and software
MSI Wind U100 is great at web browsing. These days the difference in touchpad quality can have implications for web browsing performance, so luckily the Wind U100 has an excellent touchpad - even though the default drivers do not support scrolling - and the widest keyboard is a huge advantage. Not all is well with it though. Some button placement mishaps, like the empty space below the tiny enter button, show bad design. Why not put a bigger button instead of wasting space in an already small keyboard. No matter how badly the buttons on the right side of the keyboard have been placed though; the overall size of it makes it much more comfortable than the Asus Eee PC 901 keyboard but the feel of it just can't compete with the keyboard in Acer Aspire One.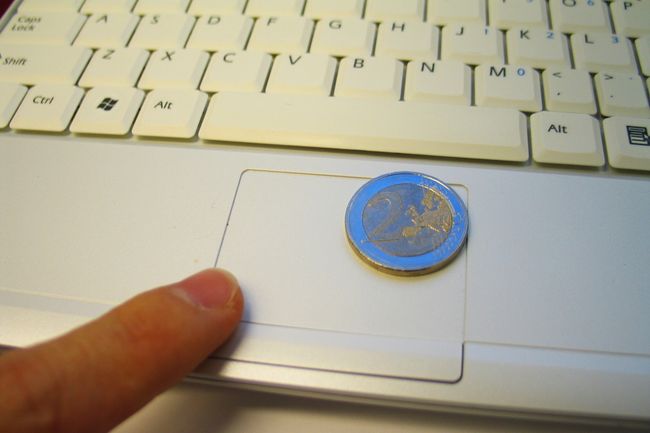 The small touchpad delivers great precision
Just like in both Asus and Acer, the MSI features a 1.3 megapixel webcam. The resolution is enough for the most of us using
Skype
, MSN, and other video call enabled messengers, but that's about it. The picture quality is pretty much on the same line with the two competitors.
MSI Wind U100 does not come with any pre-installed office software, but as expected, OpenOffice.org's word processing tools work fine. Thanks to a good keyboard, writing does not cause any major hassles.
Battery and wireless use
The battery
life
of Wind U100 is exceptional. The manufacturer gives it 7 hours and we weren't disappointed. Obviously with heavy use and high load it doesn't get to 7 hours, or even six, but nevertheless this is still just a huge improvement from the 3-cell batteries with up to 3 hours of battery life. In this category MSI
beat
both 3-cell Acer and 6-cell Asus with a numerically more powerful 6600mAh battery.
Like the Eee PC 901, this one too has Bluetooth, but with Wifi you don't have that draft-n, but the old yet still good
802.11g
. WiFi range was however the weakest of the three lacking a lot behind Eee.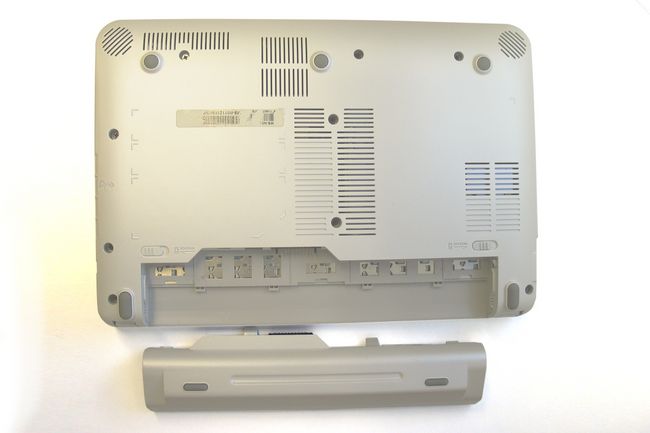 The 6-cell battery ensures great battery life
Pros and cons
Pros
+Pretty fast start-up
+Surprisingly
+Good keyboard an touchpad
+Extremely powerful and longlasting battery
+Video playback on
VLC
Cons
-WiFi range
-No scrolling on the touchpad
-Size
-Hiccups in high load browsing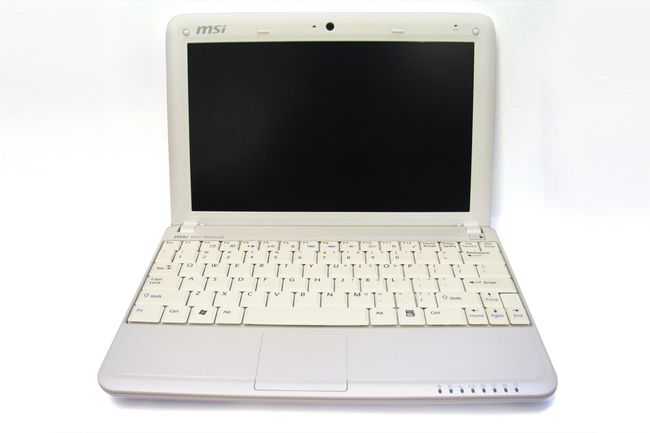 Testilaitteen toimitti MSI