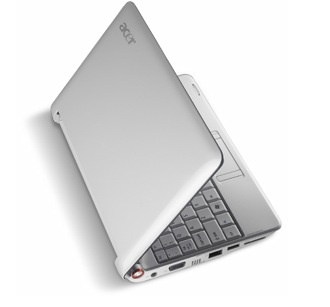 We have reviewed three netbook models from some of the largest netbook - and laptop - manufacturers in the world. Among the three models we received are the Asus Eee PC 901, Acer Aspire One 110 and MSI Wind U100. You can read other two reviews via the links below and the wrap-up from here. The tests did not cover all the aspects of computing and only scratch the surface of the three devices. Still, if you are interested in buying a netbook at some point, maybe these reviews can point you in the right direction.
*
Asus Eee PC 901
*Acer Aspire One 110
*
MSI Wind U100
Hands-on
Acer tackles the same category as Eee PC 901 with their Aspire One A110 - an ultra-portable laptop or a netbook with 8,9" display. Our test device was equipped with an 8GB
SSD
and
Linpus
distribution version of
Linux
. The package contained a small manual, the device itself with 3-cell Li-ion battery and a rather large AC adapter. Unlike in the Eee PC package, this one didn't include any kind of sleeve case. From the beginning the Aspire One gave a good quality impression with a metallic blue casing and a durable feel. The model is also available in brown, pink and white.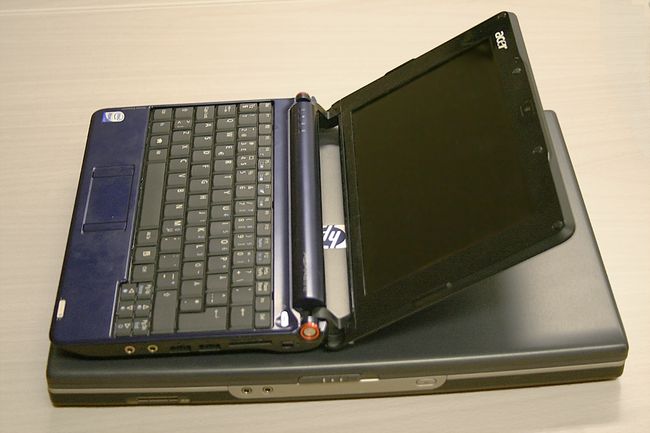 Acer fits nicely on top of 15"
HP
Technical specifications
Acer Aspire One A110
-1,6GHz
Intel
Atom
-
512MB DDR2
-8,9" display (1024x600)
-Intel GMA 950
-8GB SSD
-2200mAh 3-cell Li-ion battery
-Linux (Linpus)
-1.3 mpix webcam
-802.11b/g WiFi
-3
USB
ports, VGA-output, microphone and audio connectors, Ethernet connector and a
SD
memory slot and memory card reader
Aspire One A110 with the Linux OS is surprisingly brisk. Even after using the more powerful (memory-wise) Windows laptops the Acer seemed very responsive and was faster in generic use than the
MSI
or Asus model we tested. Web browsing is a blast when you don't have to worry about the browser not responding (sounds familiar?) like in the two competitors. Video playback isn't crippled either even though none of the
HD
videos ran smoothly. Video content with a
resolution
of up to 960x544 play, and provide more than enough detail for the 8.9" display.
Acer's netbook is on its element when it comes to mobile use. The start-up time at 19 seconds from power off to the
SmartStart
menu is half of that of Asus and MSI. SmartStart is the main menu of the OS. Via SmartStart you can access the browser, media players, settings and more with just one click. More of that next.
Usability and software
Acer's netbook is great at word processing. Not only does it have a sleek and fast operating system but it also has the best keyboard of the three. It's strange how they've managed to fit it so well for being only half an inch or so wider than the Eee PC keyboard. The feel is what you'd expect from a standard sized laptop, and in this case it's a compliment. Even though the keyboard makes A110 a great word processing tool on the move, things look a bit grimmer on the web browsing side. An average touchpad is kind of ruined with odd button placement and narrow buttons. The sensitivity and feel of the touchpad aren't either the best of the bunch but you'll get some improvement from the settings.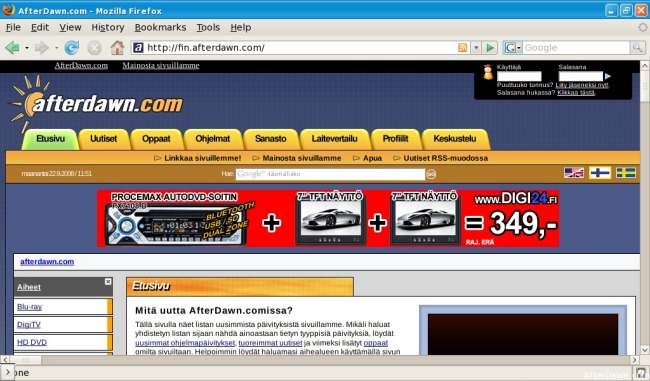 In the Acer Firefox runs smooth and stabile
The Linpus Linux distribution comes with a series of pre-installed software ranging from instant messaging to RSS reader and from calendar to
OpenOffice.org
word processing applications. Most of the programs are easy-to-use and don't need to be replaced, unless you want to. However, if you want to play video files we recommend installing
VLC
. The pre-installed media players supported only very selected file formats and if you want to enjoy a wide variety of videos and movies
VLC
is the way to go. Unfortunately the software installations and upgrades might be a challenge for someone who isn't familiar with Linux operating system but with some Googling it shouldn't be impossible at all.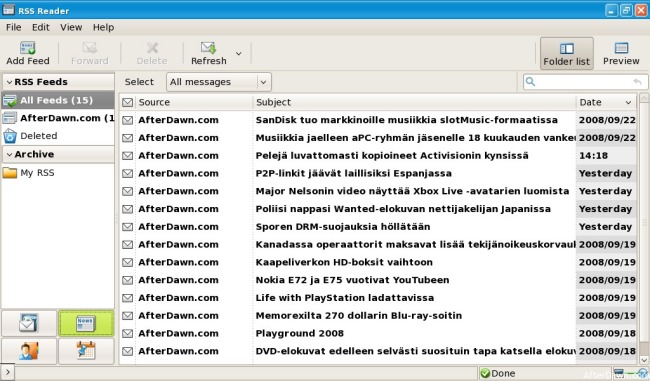 Easy-to-use RSS reader is pre-installed
A110 comes with an integrated 1.3 megapixel webcam just like the other two netbooks we reviewed. The pre-installed messenger, which was tested for MSN messenging, recognized the camera without any hassle. No major differences could be spotted in the picture quality with any of the netbooks' webcams. The messenger application supports
AIM
,
Google Talk
,
MSN Messenger
, and Yahoo Messenger.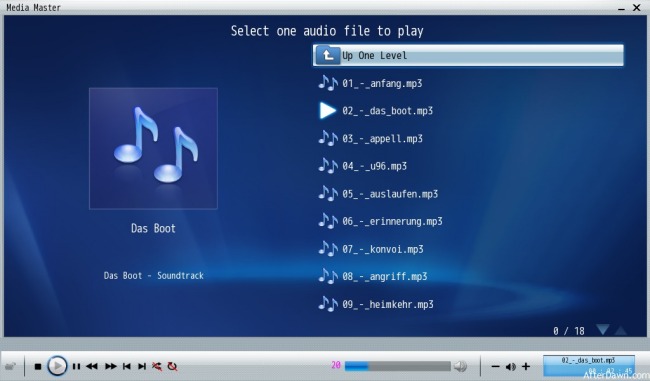 Unfortunately the pre-installed Media Master supports only handful of video formats
Battery and wireless use
The battery
life
in Acer Aspire One A110 is disappointing for a mobile device such as a netbook of this calibre. The 3-cell Li-ion battery bumps up only 3 hours of battery life - less than half of what you get from
Wind U100
and Eee PC 901. There is a 5200mAh 6-cell battery available for this model and it should be considered a must buy for almost everyone. Also the lack of Bluetooth does weaken the possibilities of mobile use. Wireless access can be attained via the 802.11b/g WiFi chip, which doesn't perform as well as the Eee PC 901's
802.11n
chip, but does bypass the range of Wind U100.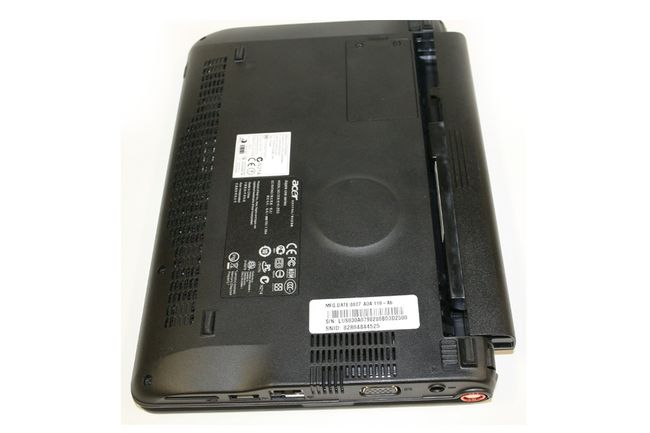 The battery of Aspire One A110 is clearly the weakest of the trio
Pros and cons
Pros
+Fast boot-up
+Keyboard feel and response excellent
+Easy-to-use and functional pre-installed software
+Smoothly running OS
+Video playback on
VLC
Cons
-Software installation/upgrade not for beginners
-Video playback on default players
-Touchpad button placement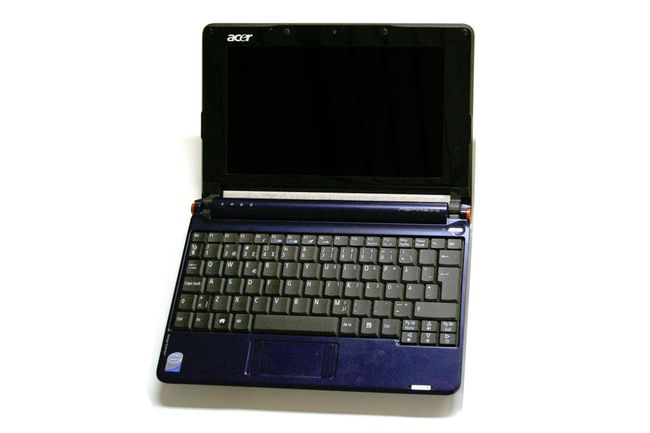 Thanks to our partners for supplying the review pieces: SERV-IT