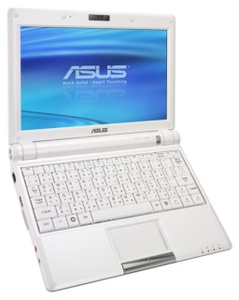 We have reviewed three netbook models from some of the largest netbook - and laptop - manufacturers in the world. Among the three models we received are the Asus Eee PC 901, Acer Aspire One 110 and MSI Wind U100. You can read other two reviews via the links below and the wrap-up from here. The tests did not cover all the aspects of computing and only scratch the surface of the three devices. Still, if you are interested in buying a netbook at some point, maybe these reviews can point you in the right direction.
*Asus Eee PC 901
*
Acer Aspire One 110
*
MSI Wind U100
Hands-on
Asus was the first one to hit the jackpot with ultra-small and cheap laptops. They first released a couple of Eee PC models, and following their success the company built a production line and brand around Eee PCs. We tested the
Windows
version of the white Asus Eee PC 901 with 12GB SSD. It isn't quite the cheapest of them but with under $500 (or £300) on the price tag it can't be considered expensive either. The box contained a set of manuals, a black sleeve case and a handy AC adapter (the smallest of the three netbooks).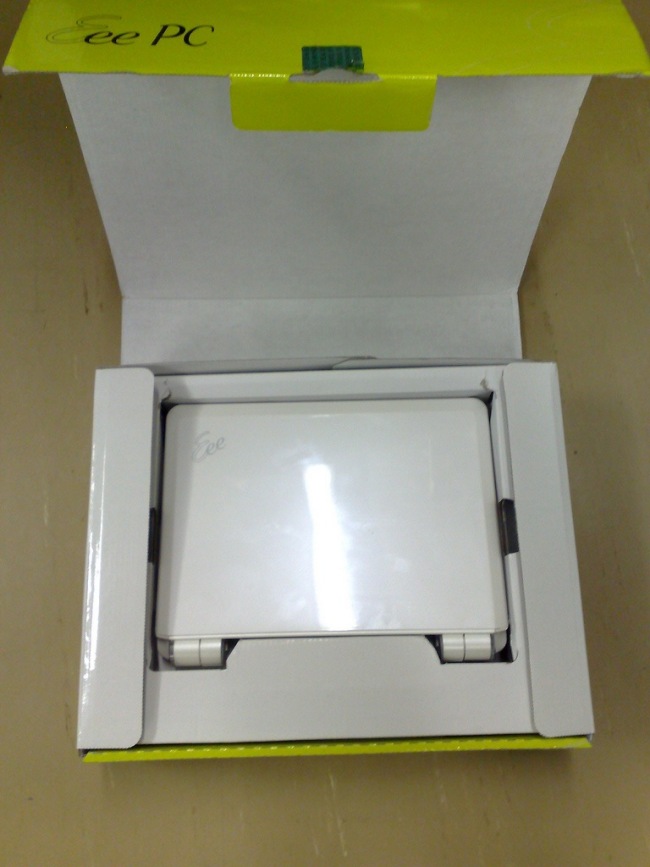 Asus Eee PC 901 in a simple packaging
Technical specifications
Asus Eee PC 901
-1,6GHz
Intel
Atom
-
1GB DDR2
-8,9" display (1024x600)
-Intel GMA 950
-12GB SSD
-6600mAh 6-cell battery
-Windows XP
-1.3 mpix webcam
-802.11b/g/n WiFi and Bluetooth
-3
USB
ports, VGA-output, microphone and audio connectors, ethernet connector and a SD/MMC memory card reader
When you have these impressive specs in a netbook, you can expect some performance as well. For a computer barely larger than your palm the Eee PC does have some punch to it, more than we expected actually. Although our test methods were not as thorough as they could have been, we did find out some good-to-know facts. First of all the obvious, if your looking for a gaming laptop or a multimedia
HTPC
this isn't it. Asus Eee PC 901 won't run
Crysis
and only one
HD
video played on the system without problems. However, if you're satisfied with 960x544
resolution
video, which is enough considering the size of the display, and want to occasionally play slightly older games, the Eee PC 901 could be for you. This doesn't mean that you have to go back to Pong; the recently released
FIFA 09
demo for example played fine at minimum settings.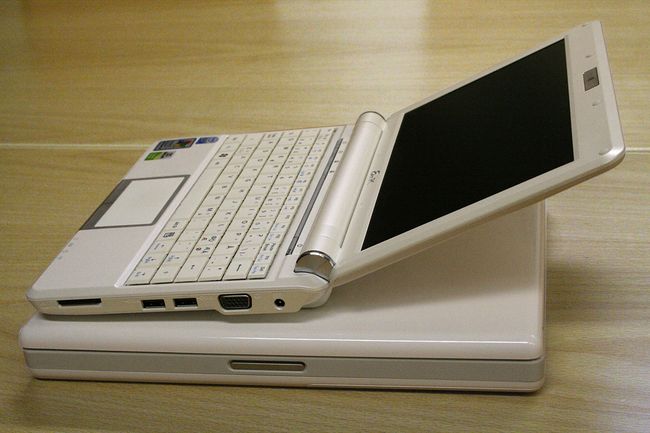 Under the Eee PC the old 12" iBook seems gigantic
Usability and software
Even though netbooks, as stated in the name, emphasize as ease-of-use for web browsing, we decided to try them out in some word processing applications and see how the usability of the keyboard and touchpad hold up - important factors in both Internet browsing and word processing.
Unfortunately for the Eee PC, its largest problems are in the keyboard. The feel of the keyboard is not all it could be, and with one of the two 901s we tested the keyboard misinterpreted every fourth or so letter, hopefully this is limited to just that particular unit. Despite the tally of typos decreasing significantly with the other 901 model, it didn't change the way the keyboard feels, how small it is or how strange the key placement is. Frankly, the keyboard was the worst of the three we reviewed.
Things were looking brighter as we went on though. The touchpad is not perfect either but it features Synaptics with scrolling function. Overall the touchpad is what you'd expect from a standard laptop.
If you adjust to the keyboard there are plenty of things this netbook is able to do. Web browsing is what you'd expect from a laptop with a tiny screen, it's nowhere near the experience you get with a desktop PC or even a standard 15" laptop, but you'll do it for half an hour at a time. Our test subject didn't have any office software pre-installed so we installed
OpenOffice.org
package. Quite like the web surfing, if you ignore the weak keyboard, it is quite enjoyable with no major twitches or glitches. We also installed
Skype
and tested if the 1.3 megapixel webcams are any good. Couple of settings and your ready to attend video conferences and make video calls without attaching external webcams. All of the netbooks feature a 1.3 megapixel webcam so there should be no major differences in picture quality. However, by default the Eee PC's webcam took only
VGA
resolution (640x480) pictures - which is OK for video calls but rather underwhelming for still pictures.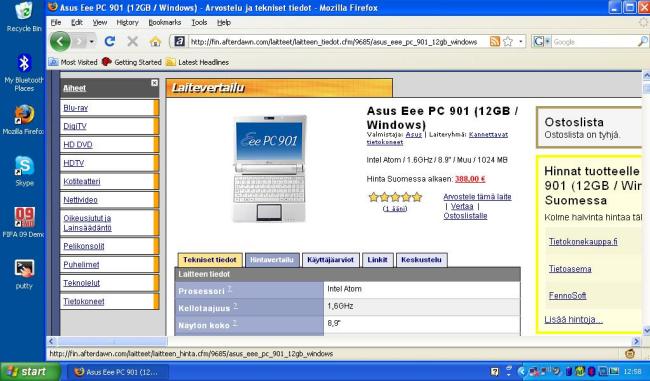 Browsing requires some heavy scrolling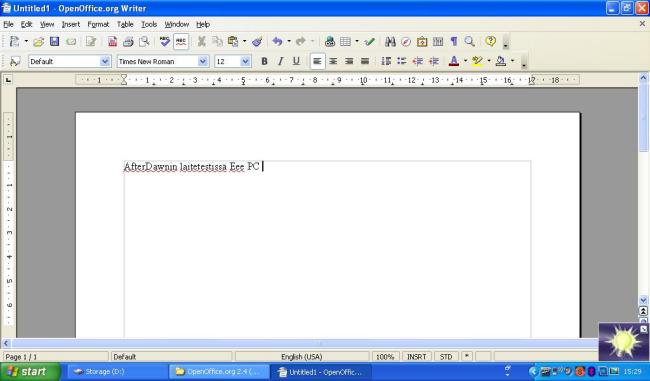 After getting used to the keyboard we managed to write without typos
Battery and wireless use
The 6600mAh 6-cell Li-ion battery is definitely the best asset of Eee PC 901. Manufacturer promises a hefty eight hour battery
life
and it doesn't let you down. With continuous video playback the battery lasted for way over four hours, WiFi enabled. Even though we didn't test it, it's safe to say that if you're just surfing the web you'll get over six hours.
Another good feature, which also separates the netbook from its competitors, is the WiFi chip supporting the draft version
802.11n
. Not only does it support the fastest available WiFi networks but also features clearly the longest range of the test devices. This is especially valuable when you are using public WiFi networks that have a large range, but are easily blocked by obstacles.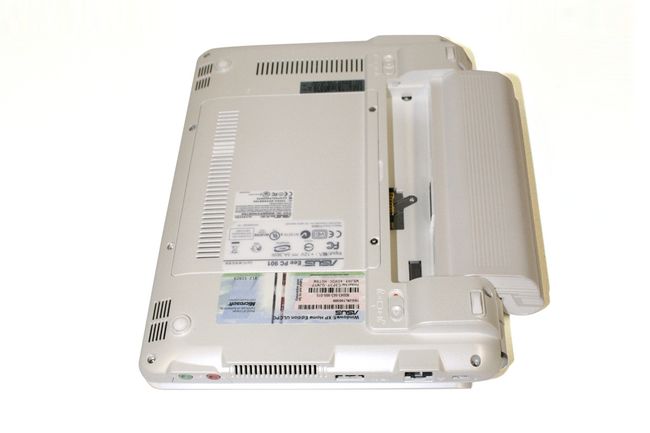 Eee PC and the 6-cell powerhouse
Pros and cons
Pros
+Relatively fast start-up
+Surprisingly good performance in games
+Fast WiFi (802.11n) and great range
+Battery life
+Video playback
Cons
-Insensitive keyboard
-Touchpad scrolling lag
-Hiccups in high load browsing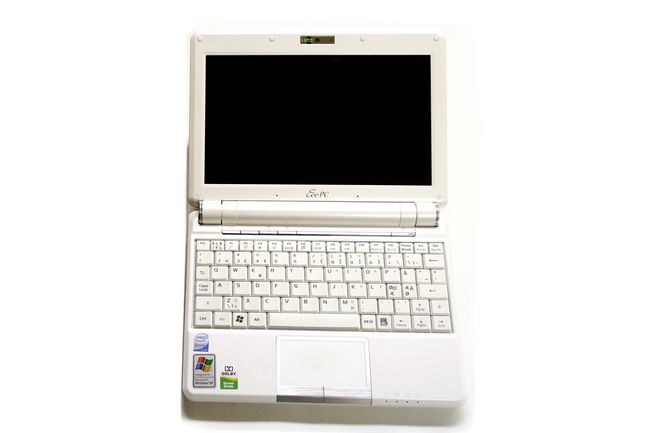 Thanks to our partners for supplying the review pieces: SERV-IT and Asus