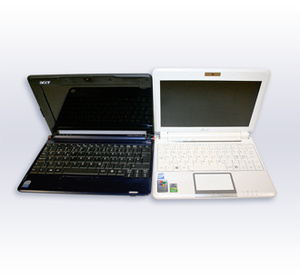 We took the liberty of testing netbooks of three of the largest netbook manufacturers in the world -
Asus
,
Acer
and
MSI
. The widely popular netbooks have hit the portable computing market by storm and nearly 10 models have surpassed
Apple
's
Macbook
line-up in terms of popularity. Two of the models we tested, the
Asus Eee PC 901
and the
Acer Aspire One 110
, were as small as 8,9" and the third,
MSI Wind U100
, was almost as tiny at 10".
Technical specifications (more detailed specs in
Hardware
):
Asus Eee PC 901
-1,6GHz
Intel
Atom
-
1GB DDR2
-8,9" display (1024x600)
-Intel GMA 950
-20GB SSD
-Windows XP
Acer Aspire One 110
-1,6GHz Intel Atom
-512MB DDR2
-8,9" display (1024x600)
-Intel GMA 950
-8GB SSD
-Linpus
Linux
MSI Wind U100
-1,6GHz Intel Atom
-1GB DDR2
-10" display (1024x600)
-Intel GMA 950
-80GB HDD
-Windows XP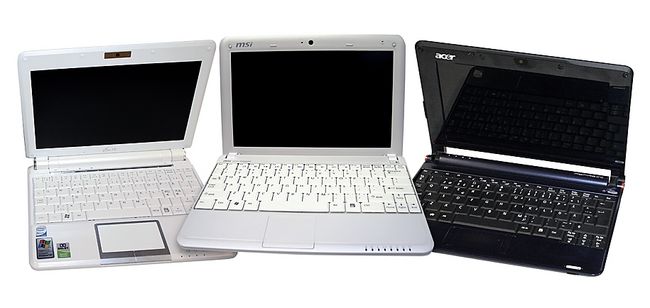 From left to right (out of scale): Asus Eee PC 901,
MSI Wind U100
ja Acer Aspire One A110
The computers went through a series of tests, nothing too thorough, including a general hands-on mapping the overall look and feel of the devices, video playback test with various file and
compression
formats, battery
life
and wireless use tests and last but not least: usability and durability tests. This article summarizes the technical specifications of each of the three netbooks and gathers some of the main results of the test.
Each of the three seemed and felt more of a quality product than we expected, considering the price range from $400 to $550(£230-330). However, slight differences could be noticed in favor of MSI and especially Acer. Netbooks really are tiny compared to standard laptops, and the smallest of the
pack
, the Acer Aspire One 110, weighs only 2,1 lbs (under a kilogram) and even the heaviest, MSI
Wind U100
, at 2,65 lbs (1,2 kg) can't be considered a burden.
Battery life of six and seven hours is exceptional in both Asus and MSI with their 6-cell Li-ion batteries, but the 3-cell Acer lacks behind considerably with 3 hours - a common battery life for supermarket laptops.
Asus with a larger, more powerful battery is slightly thicker than the tad wider Acer
In terms of performance the netbooks are closely matched. Each has a 1,6GHz Atom processor and Intel 950 graphics chip, and so the deciding factors will be whether you want an
SSD
or standard HDD for storage, half a
GB
(Acer) or 1GB (Asus and MSI) of Memory and a
Linux
(Acer) or
Windows
(Asus and MSI) operating system. All models sport three
USB
ports, a
VGA
output and ethernet port, as well as a 1.3 megapixel webcam.
Let's continue with a wrap-up of the test results. First of all we played several video files with
VLC
on each of the systems. Both Windows netbooks, Asus and MSI, were able to play DivX-encoded video in the
AVI
container
up to
720p
, Acer with Linux topped at 960x544
resolution
XVID
. None of the machines managed 720p/1080p
MPEG-4
AVC
. Even though gaming laptops are far more powerful and rarely feature smaller than a 15-inch display we took the little time we had to try both of the Windows netbooks with some not-so-resource-hungry games. Asus seemed to cope fairly well with the recently released
FIFA 09
demo - be it only on minimum details - and even though we couldn't get EA's games to work, for an unknown reason, on the MSI Wind we could get demo version of
WALL-E
to run, and it did so with a pretty good
framerate
. Unfortunately we didn't have enough time to try out games on the Acer Aspire One. All in all the game ran smoother than we expected regardless of the Intel 950 graphics chips.
In a more netbook-friendly tests we looked into what makes a good netbook. We managed to get distinct differences between the devices by focusing in usability of the keyboard and touchpad, the start-up speed and WiFi range.
Acer with the Linpus Linux was way ahead of the two Windows netbooks in start-up speeds, while Asus and MSI weren't sluggish by any means. When it comes to usability there were big differences in keyboards and touchpads. Acer's keyboard was definitely the best, topping the MSI's bigger and Eee PC's disappointing keyboard. However, the tables turned as we inspected the touchpads. Acer's had a strange button placement and the touchpad of Eee PC seemed to lag a bit, both of them though had a touchpad scroll function. Even though MSI was the only one not to feature touchpad scrolling by default the precision of the touchpad won us over.
In WiFi range we saw slight differences between MSI and Acer in favor of Aspire One, but nothing major. Instead the Eee PC was the only WiFi chip supporting the
802.11n
and that lead it to a clear victory in the range contest as well.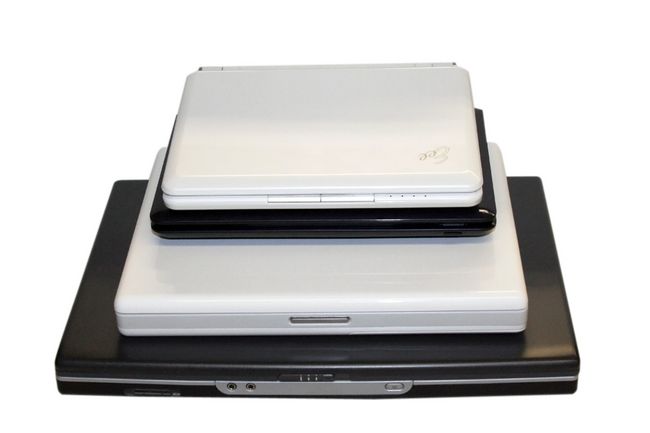 From bottom up: 15"
HP
, 12" iBook, Acer Aspire One A110, Asus Eee PC 901
Thanks to our partners: SERV-IT MSI Asus