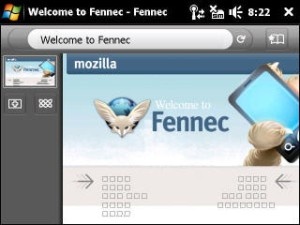 Mozilla
has released the first public
alpha
of its upcoming
Firefox Mobile
software, allowing PC,
Linux
and Mac users to try out the software through thier computers.
The browser, codenamed "Fennec", is built on the same Gecko code base that is being used for Firefox 3.1.
Mark Finkle, Mozilla's platform evangelist, added that the company is hoping for as much feedback as possible into the browser.


"We are also releasing desktop versions of Fennec,"
said
Finkle.
"That's right, you can install Fennec on your Windows, OS X or Linux desktop too! We want you to be able to experiment, provide feedback, write add-ons and generally get involved with the Mozilla Mobile project, even if you don't have a device."
Finkle added that a Fennec version for Windows Mobile operating system was in the works but not yet ready for public testing.
The current alpha includes "touch-screen support, includes a password manager and pop-up blocker, offers a Firefox-style tab-browsing interface, and provides the same address bar functionality" as Firefox.
Download Fennec here:
Mozilla Fennec Alpha