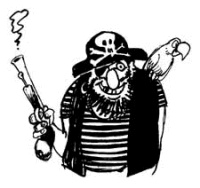 On August 26th, 27-year-old
Kevin Cogill was arrested on suspicion of violating federal copyright laws
. FBI agents say Coghill had nine unreleased Guns N' Roses songs on his site in June.
The blogger allegedly had been
streaming
songs from the still unreleased new Guns N' Roses album "Chinese Democracy" on his site for some time.
Coghill, despite admitting twice in writing to the FBI that he was guilty, pleaded not guilty in court today. He faces up to three years in federal prison if convicted of copyright infringement and up to five years if the court believes he posted the songs for commercial gain.
The defendant was originally given a public defender attorney but has now retained his own lawyer and is fighting the charges.
The FBI reported that in June, Coghill admitted to the crime and signed it in writing, confessing that he uploaded the songs but then took them down because the traffic took down the servers running his site.
Guns N' Roses
added
that they do not condone Coghill's actions, but that their real "interest is in the original source" of the material.