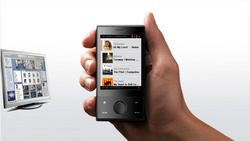 Didiom
has announced the launch of a mobile application that will allow users to purchase and download over 1 million
MP3
songs.
The free application will also allow music fans to remotely access their home
iTunes
library from over 200 movile devices including BlackBerrys and phones with Windows Mobile operating systems.
Along with the launch Didiom has also announced they have signed licensing deals with
CD Baby
, which is the largest retailer for independent music,
Naxos
, the world's leading producer of classical music,
Saavn
, the world's largest digital distributor of South Asian content and other indie projects such as
Phonofile, Bonzai Music, Soul Seduction, eClassical, Xpressbeats, Reggae Country, MisRolas, EmuBands, Armenian Music Center, Quarterlife Records
and
Resonant Vibes
.

"We've developed a simple and fun way to mobilize music and to discover new music from around the world while on the go,"
said
Ran Assaf, Didiom's founder and CEO.
"More and more music fans are tired of wasting valuable time sideloading music from their computer to their phone or iPod. We provide them with a new type of experience that lets them not only stream music from their computer to their handset over the air, but also to discover, bid for and share music in new and exciting ways."
Most songs are $0.89 USD for single tracks and most albums are $9.99 USD.