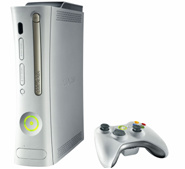 According to
Gamasutra
,
Microsoft
's
Xbox 360
currently has a higher attach rate
(
tie rate
,
attachment rate
etc.) than the
Nintendo Wii
and
Sony
PlayStation 3 (PS3)
consoles. This metric measures, on average, the number of games sold per console. It's obviously flawed for several reasons, for example because it means a boost in hardware sales could mean a lower tie rate for a period of time (and a boost in hardware sales is hardly a bad thing?)
Nevertheless, it is used in the industry as a measure of a console's performance in the market overall. More interesting than the overall tie rate is the difference specifically in the sales of first and third-party games.
Nintendo
, for example, is expected to have a higher tie rate for 1st party games compared to the Xbox 360 and PS3.
Overall, the PS3 console has an attach rate of
5.3
, the Nintendo
Wii
has an attach rate of
5.5
and the Xbox 360's rate stands at
6.6
. For third party titles, the Xbox 360's attach rate is
5.2
, compared to the PS3's
4.4
and Wii's
3.1
. As for first-party software, the Wii console has a tie rate of
2.4
, compared to Xbox 360's
1.4
and PS3's
0.9
.
The higher rate for first-party titles for the Wii is hardly surprising. Often cross-platform titles don't
debut
on the Wii console because of the hardware limitations, but both the Microsoft and Sony consoles are free to fight over sales of a lot of the same game titles.