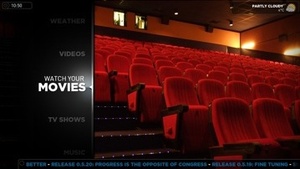 Prologue
For some reason the ever increasing crowd of people in search for the ultimate media player have been disappointed by one application after another. The task is not a simple one for the developers as the complete package should feature an easy-to-use and comprehensive user interface, support for nearly every file format and punch to run the finest
Full
HD
resolution
. So far we haven't come across a device or program that fully meets these requirements.
Xbox 360
let the
XBMC
fanatics down as did
PS3
and its limited file support. PC hardware-based
HTPCs
usually require more or less advanced setups and UI lessons for the non-tech-savvy family members.
Plex
is designed to deliver just about everything we need from a media player. Plex (OSXBMC) is a
Mac OS X
version of the XBMC media player (XBox Media Center) which was considered to be the best media player before it became obsolete due to a lack of support for Full HD video or digital video outputs. In addition, the hard to find
Xbox
needs to be modified with a
modchip
or a software mod to run XBMC. The developers of Plex promise a complete format support and an extensive appearance customization.
In this hands-on we tested the Plex's media playback and network features as well as usability and user interface.
Plex is available only for Mac OS X and requires the Leopard version of the OS as well as
Intel
-based Mac computer, so unfortunately older Macs are unable to run the application.
Test hardware
Mac Mini
1.66 GHz Intel Core Duo
2GB 667 MHz DDR2 SDRAM
OS X Leopard 10.5.5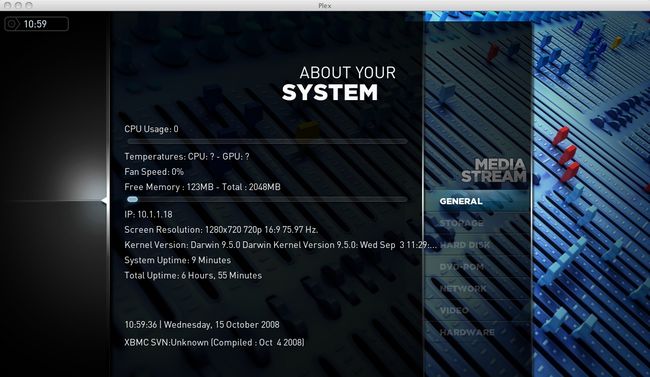 Features
Plex hosts an impressive list of features that harness your Mac computer as an almost complete media player. Video, music and image files can be played/shown locally or from network shares. The application supports samba and
UPnP
shares and with the script support you'll be able to enjoy
YouTube
videos and
Apple
trailers easily from the same application. As an additional, non-related, feature the Weather menu gives you access to weather information around the world.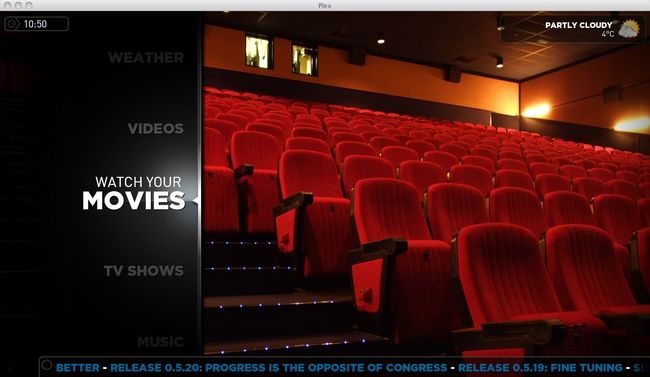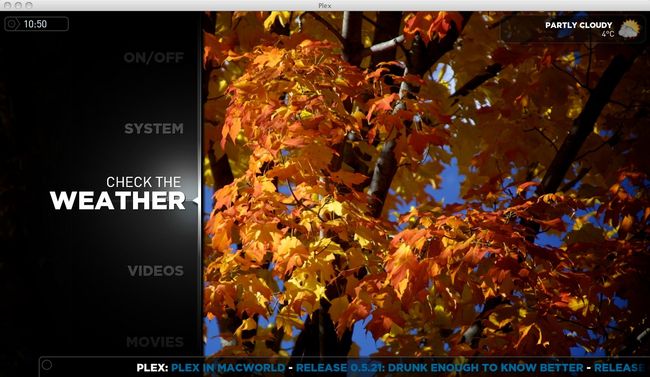 Video and music playback
The comprehensive support for different file formats makes Plex ideal for a media center solution. You can play
MP3
,
OGG
,
AAC
and
FLAC
audio files and virtually any video file format there is. We tested
MP4
,
AVI
,
MOV
and
MKV
files among others. Each of them ran smoothly and without problems. Plex comes with a wide variety of decoders so only the rarest of the files won't play. In addition Plex supports most of the image formats including JPEG, GIF, PNG and BMP files and also plays
DVD
movies from discs, kind of (more of that later on), and DVD image files such as IMG and
ISO
formats. For the DSLR users out there, Plex can also display RAW images, at least the
Canon
CR2 files we tested.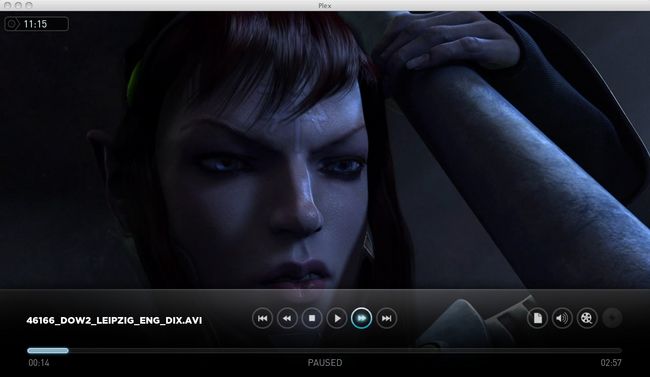 Plex recognizes files from
RAR
and
ZIP
archives and is able to play supported files without extracting them first. The view is similar to the standard directory view and the files run without any hiccups.
The video playback in Plex features settings for subtitles, audio and video. Plex identifies automatic subtitles but you can also load them from the menu as long as Plex supports the subtitle format. You can change the timing of the subtitles as well as the audio configs such as volume, timing and track during the playback. The application accepted all the subtitle formats we fed it including
SRT
, SUB and even embedded MKV subtitles.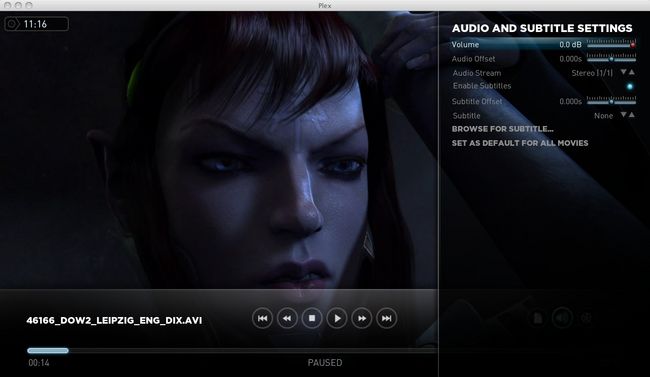 From the video settings you'll be able to modify the interlacing, scaling method, view mode, zoom and
Pixel Aspect Ratio
configurations. During the playback you can also add up to eight bookmarks. Plex saves the bookmarks locally and you can use them for network shared files as well, even after restarting the application.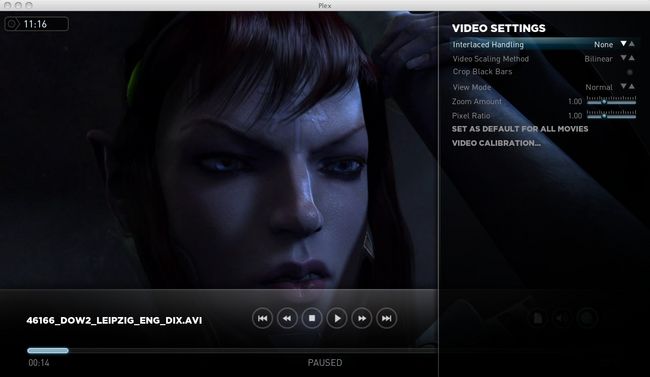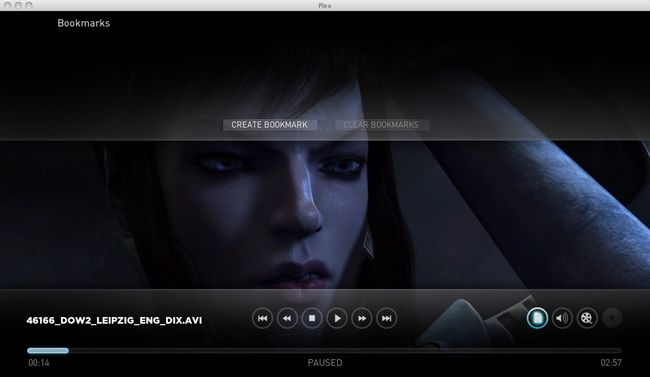 Unfortunately DVD movie playback doesn't work as we hoped it would. In the current beta version of the software the automatic playback from optical media has been disabled due to bugs associated with it. If you want to play DVD discs you need to add the DVD disc as a media source and open its
VIDEO_TS
folder via file explorer. This makes playing DVD movies overly complicated.
The music playback features a host of menus and settings in the same fashion as the video playback. From the settings you can find
LastFM
and
freedb
integrations as well as audio, karaoke and music database settings. To comfortably use the more advanced playback features such as playlists you need to delve quite a bit into the menus and get familiar with the menu structure, more about this in
Usability
-section.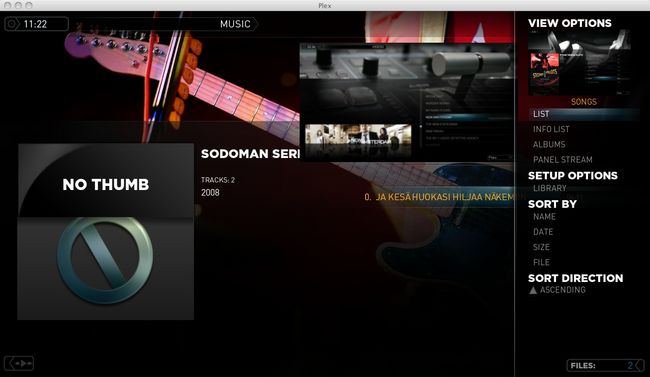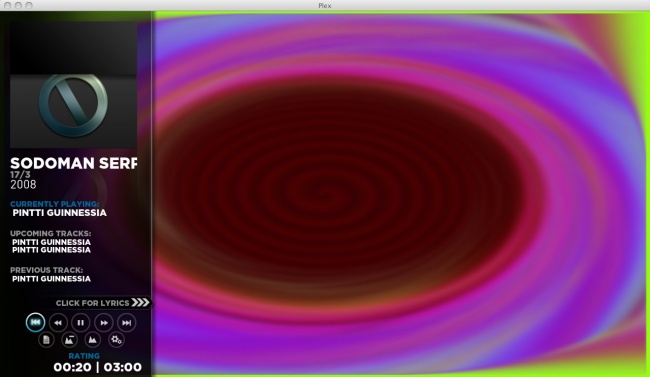 You can search several Internet databases for album and movie covers, reviews, plots, and artist information. Adding cover images makes browsing your music and video collections much more fun and enjoyable, and in some of the layout views Plex is almost unusable without them.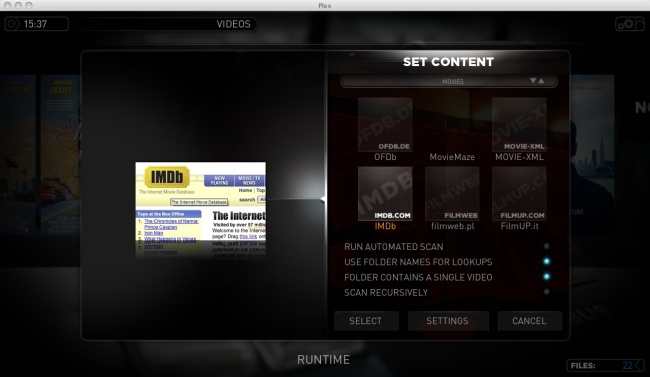 Network shares and playback
What makes Plex exceptionally good media center solution are the network capabilities. It supports both samba and UPnP shares so you don't need to store your music, movie or photo collections next to your big screen tv, instead toss your media server to the darkest closet and play the files remotely. In our playback test
high definition
video ran smooth via wired ethernet while playback over
802.11g
WiFi (54Mbps) lagged when there was other network traffic. The WiFi playback is also obviously dependent on the load of the network and when we had zero load even the HD video played without problems. If you have a newer Mac (with
802.11n
) and a 802.11n supporting WiFi access point and network shares you shouldn't have problems with high definition video even on higher loads.
Adding media sources is simple. You can add sources in the media views (photos, videos or music) by simply selecting the add new source below the default and previously added sources. You can also modify and remove your media sources from the menu.
Usability
You can control Plex in many ways. We tried all of them, keyboard, mouse, and the Apple Remote. Using the remote delivered with Mac Mini (and most of the other Macs too) the browsing was the most intuitive -- easy control with remote being one of the key aspects of Plex development. In the PC world the variety of remote controls makes it a bit harder to create such a compromise, even though the
Windows Media Center
remote is fairly standardized. The keyboard however is valuable, especially when entering searches for YouTube videos.
Mouse support was less impressive and using only the mouse to control Plex wouldn't be our recommendation. In a living room environment the remote control is after all the best and for many the only choice.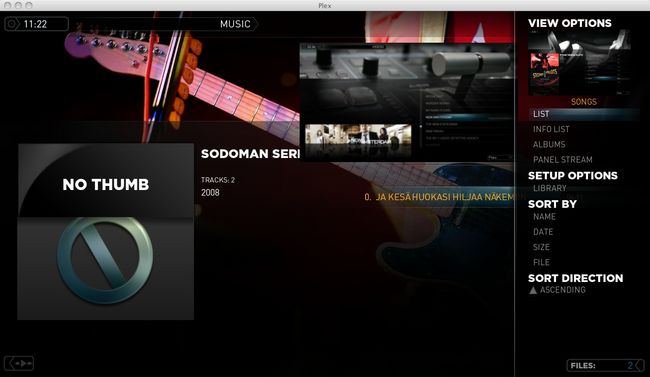 The main issue in usability is the complexity of the application. When you get to know the menu structures and shortcuts you can get easily around, and with not too steep a learning curve. It shouldn't take more than a couple of hours, even less if you dare to read the Plex documentation carefully. Usability being a cornerstone to a functional media center i recommend reading at least the
Apple Remote mappings
from the
Plex documentationa
. However we found some of the logic behind the navigation somewhat counter intuitive, making it rather hard to follow on occasion.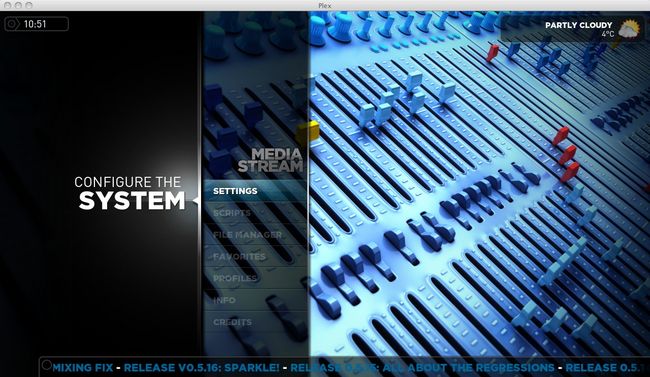 The basics, such as video and music playback from the local machine, are easily available in Plex. However, if you want to fluently add media sources, rearrange the files, download movie covers and search your personal database for suitable subtitles, make room for some orientation first.
Additional features and scripts
As mentioned earlier in addition to traditional video and music playback Plex supports YouTube videos and Apple.com trailers. You can watch both of them by using the pre-installed scripts. Both of them worked pretty well with standard buffering speeds and without major clitches.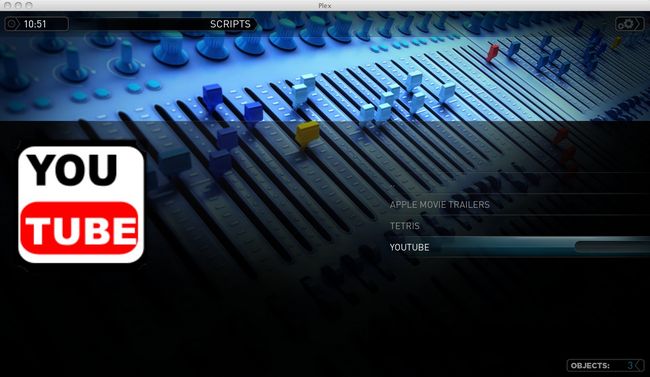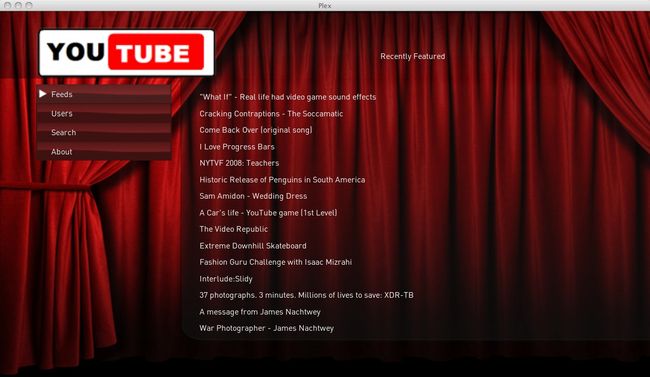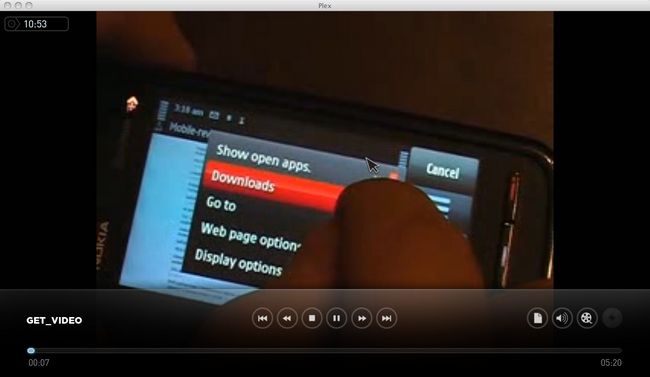 From the weather settings you can set up three cities and your current location which defines the temperature unit. The Weather application should recognize most of the largest cities -- and even some smaller ones -- around the world, so you'll probably get pretty exact weather information out of it. You can see the weather of the selected city in the Plex menu view in the top corner on the right hand side and additional information -- such as humidity, wind speed, etc -- from the Weather application itself.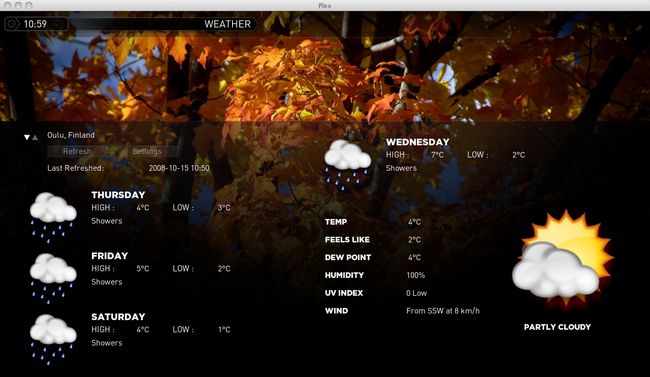 You can also control Plex easily through a web interface, from where you can access video and music playback, photo view and playlists.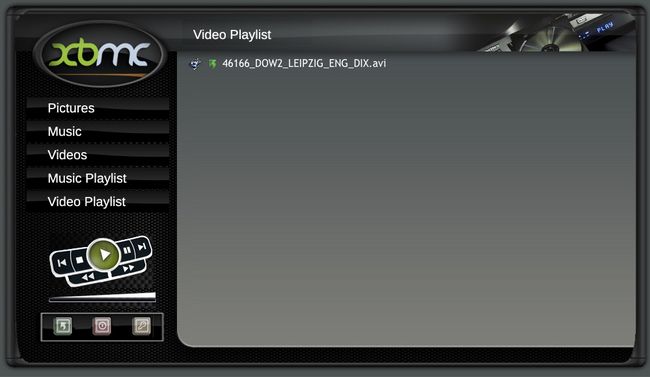 Round-up
All in all Plex is a great media player. Regardless of its still-crippled DVD playback it shouldn't be overlooked, especially if you're looking for a XBMC successor. Its capabilities in playing a myriad of file formats makes it an exceptionally versatile player and a user interface with lots of eye candy makes it a good fit for your living room big screen. Minor hiccups and couple of annoying crashes were noticed during the test period which is quite typical -- but not acceptable -- for beta version applications. Plex coped remarkably well with our tests and if the Plex team will continue to develop their piece of software the way they have in the recent past we should see plenty of improvements in stability and usability.
Unfortunately Steve Jobs is not fond of the
Blu-ray
and we won't be seeing official Mac computers with integrated Blu-ray drives at least for some time. So to put it simply, if you mainly watch Blu-ray/DVD movies Plex is not (yet) the choice for you but if you are looking for a XBMC replacement -- able to play whatever format video, audio and image you have stored -- with better performance you won't be disappointed. We could also see support for EyeTV digital TV in Plex in the future but that hasn't been officially confirmed.
Pros and cons
+Remarkably good file format support
+Remote control use
+Smooth user interface
+Network features
+Script support (YouTube & Apple.com trailers)
+Appearance and skins
-UI complexity
-DVD playback support
-Intel and Leopard mandatory
-Occasional hiccups