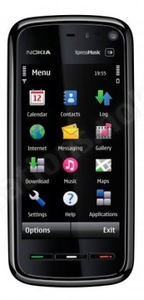 Nokia
has announced that the hotly anticipated
5800 XpressMusic
phone will soon be available in Russia, Spain, India, Hong Kong, Taiwan, Finland and other counrties globally. Separating the phone from previous XpressMusic models is a touch screen interface.
The 5800 launches alongside the release of Nokia's "Comes with Music" unlimited music download service and uses a Symbian S60 interface that Nokia has been demoing since last year.
The device is touchscreen and can be considered more of music player than a phone. Its dual stereo
surround
speakers face outwards and there is a 3.5mm headphone jack, two features not found on many phones. Also included are 81 MB of on-board memory and a large 8GB
microSD
card as well as a guitar pick stylus. Nokia says the speakers are the most powerful yet on a phone.
Music playback includes protected
WMA
,
MP3
,
AAC
and there is word that the phone can use
Windows Media Player
11 as its on-board player.


"When it comes to music phones, people all over the world want a device that is a great music experience and still works really well as a mobile phone, without sacrificing features,"
said
Jo Harlow, Vice President, Nokia.
"The Nokia 5800 XpressMusic delivers on this and allows consumers to quickly and easily access and share the content that is most important to them with the people that are most important to them."
For more pictures and video, please visit this page here:
Nokia 5800 XpressMusic pictures and video