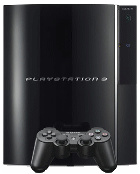 Eric Lempel, Sony's Director of PlayStation Network Operations, has posted on the official
PlayStation 3
blog that the upcoming PS3
firmware
update, version 2.53 will bring improvements to the Flash Player via the internet browser.
From the
blog:
"Hi everyone, in the next PS3 firmware update (v2.53), coming soon, we're improving the way the Flash Player works with the internet browser. In addition to being able to access more sites using Flash, you'll be able to enjoy:

* Full-screen mode playability
* Live movie (using RTMP format) playability

Now it's going to be even easier to enjoy web content on your PS3, in full-screen!"
Although that is the most notable update,
gamesareevil
says this is the full update list:
Users
* You now have an option to set the PS3 to turn off automatically after a background download or installation of content. This option is available when you turn off the system while content is being downloaded or installed.
Settings
* BD/DVD has been renamed to Video Settings
* Sequential Playback has been added as an option under Video Settings
*
Divx
VOD Registration Code has been added under System Settings
* Power Save Settings have been added as an option for the system and controllers. They can now be set to shut off after a certain period of time
* The method for connecting Bluetooth devices has been changed
* You can now choose German, French (Canada) and French (Switzerland) keyboard types
* You can now select printers that support network connectivity including
HP
printers using the HP option
Music
* You can now select one of nine volume output levels using the control panel
* Scene Search has been added as an option on the control panel
* Mosquito Noise Reduction has been added for video content that is saved on the hard drive or storage media
* During
BD
and
DVD
playback, a technique known as
chroma
upsampling is now automatically selected based on the movement of objects within the video to enhance images
Game
* Playback quality of some PS3 format software has been improved
* Text entry issues that have occurred on screen with Bluetooth keyboard have been addressed
* Trophies can now be synced with the server
* Pressing the PS button now allows you, on most PS3 format software, to view information from the Settings and Connection Status List option under Network Settings
Network
* Your internet browser will now support Adobe Flash Player content
* Full screen support has been added to Adobe Flash Player 9
Playstation Network
* The way to disable the automatic sign-in option and sign out have been changed
* Button designs have been changed on the Playstation Store along with the addition of a Redeem Codes button
Friends
* You can now view information about the most recent sign-in for friends