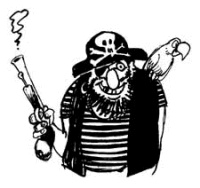 Every year,
Torrentfreak
makes a list of the most pirated PC games of the year and this year is no different.
Topping the list is
Spore
, the blockbuster game that made headlines for its unique gameplay and
for the backlash it received
due to EA's choice to include brutal
SecuROM DRM
.
In second place was
Sims 2
, another game from Spore creator Will Wright. In third was
Assassin's Creed
, which is probably on the list because a pirated version was leaked to
torrent
and
P2P
sites weeks before the retail date.
Some of the other titles on the list are more surprising given their release date but they remain popular.
The full
list
is as follows:
Number on list; Name; Amount of downloads; Date of release
1 Spore
(1,700,000) (Sept. 2008)
2 The Sims 2
(1,150,000) (Sept. 2004)
3 Assassins Creed
(1,070,000) (Nov. 2007)

4 Crysis
(940,000) (Nov. 2007)

5 Command & Conquer 3
(860,000) (Mar. 2007)

6 Call of Duty 4
(830,000) (Nov. 2007)

7 GTA San Andreas
(740,000) (Jun. 2005)
8 Fallout 3
(645,000) (Oct. 2008)
9 Far Cry 2
(585,000) (Oct. 2008)
10 Pro Evolution Soccer 2009
(470,000) (Oct. 2008)