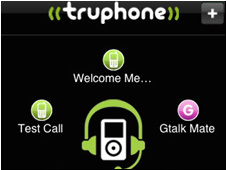 Truphone
, a new freeware application for the
iPod Touch
, promises to use the media player's built in Wi-Fi to turn the device into a virtual mobile phone where owners can make phone calls using
Skype.
Although you can currently only make calls to other iPod or iPhone users using the app, the developers say calls to landlines will be in place in the near future.
Geraldine Wilson, Truphone's CEO, added:
"There are a slew of new features we're rolling out for the iPod Touch that will let users call landlines, Skype users or send instant messages. We're talking weeks, not months, before these go live."

"We've decided to focus on devices that are wi-fi enabled and have an apps-store. For the consumer, there has to be an easy way of downloading an application."

"Our focus on the consumer side - at least in the short term - is finding devices that fit that category,"
said
Ms Wilson.