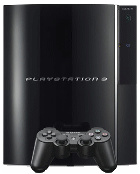 iSupply
has reported that they believe the
Sony PlayStation 3
will sell for a profit in 2009, assuming that the Yen stops gaining traction on the USD.
At launch, in 2006, the 60GB PS3 cost $840 USD to produce and still cost over $800 USD to make as late as 2007, according to iSupply. Today though, the 80GB PS3 costs about $448 USD to produce.
The report
says
"two key chips in the PS3 have moved on to more advanced manufacturing technology. In 2006, the main chips in the console, like the Cell processor and the Nvidia (NVDA) Reality Synthesizer, which handles graphics, were built on 90-nanometer manufacturing technology. Now they're even smaller, and are built on 65-nanometer processes, meaning they cost less to make than before. ISuppli estimates the Cell chip costs Sony $46, down from the $64 in 2007, and $89 in 2006.

The Nvidia chip has come down in price, too. It now costs $58, down from $83 last year, and $129 in 2006. In both cases, Rassweiler says, the chips have been significantly redesigned with new features for functions that used to be handled by separate chips inside the system, which also helps reduce costs.

And smaller chips require less power. That means Sony now ships the device with a less beefy—and less expensive—power supply that costs $21.50, vs. $30.75 before."
That being said, the production costs will continue to drop and if the Yen loses value against the dollar in the next year, iSupply estimates that the PS3 will be profitable in 2009, barring any price cuts of course.