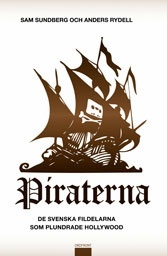 The new Swedish book entitled
Piraterna
(The Pirates) has revealed a familiar looking front cover. The cover picture with a pirate ship logo has lead the publisher and
The Pirate Bay
admins to some arguments. The publisher has claimed that TPB admins are furious for stealing their logo. TPB quickly responded to the double standards accusations.
According to TPB the thing they've complained about was that the publisher was claiming the book to be a biography, even though it is about Swedish pirate movement as a whole.
"There are people selling inofficial TPB clothing. And we all love that! The case about the book is that we where upset that they claim to be our own biography and nothing else. We even told them that they of course could use our logo, but we would hope they changed it in order to not deceive people"
, says the
blog post
on TPB website.
TPB did approve when they were asked if the logo could be borrowed but hope that it would be changed so that it wouldn't
"deceive people"
.
The new book which is going to be released in late January or early February will hit the stores in time for the TPB trial in February.