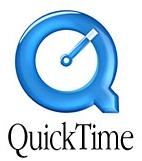 Apple
has updated their popular
Quicktime
media player, patching critical security flaws as well as tweaking the software to accept more file formats.
Version 7.6, available now for Mac and Windows users, fixes seven "critical" bugs, each of which would have allowed remote installation of unauthorized software on your computer.
The exploits would trick users into visiting a "malicious Web site" or to play a media file with malicious code. None of the exploits were publicly known before the release today of the update.
InfoWorld
adds
that
"the 7.6 update also includes some performance enhancements for H.2640-encoded and Motion JPEG media files, as well as some audio tweaks for AAC (Advanced Audio Coding) and MPEG video files. The update also improves compatibility with iChat and Photo Booth."