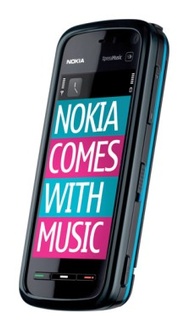 Nokia
has announced that they have shipped their millionth
Nokia 5800 XpressMusic
handset, the company's first mass market touch screen device. The phone is also notable for its
Comes With Music
service which allows for unlimited music downloads for one year.
The phone went up for sale originally in October of last year, and promptly sold out in regions such as Hong Kong and Russia. The device recently went on sale in the UK, and retailers had lines of potential buyers waiting.


"The Nokia 5800 XpressMusic has been received very positively and this milestone is just further proof that people all over the world want a device that is not only a great music experience, but also makes the most of touch screen technology,"
noted
Jo Harlow, Vice President, Nokia.
The device is touchscreen and can be considered more of music player than a phone. Its dual speakers face outwards and there is a 3.5mm headphone jack, two features not found on many phones. Also included are 81 MB of on-board memory and a large 8GB
microSD
card as well as a guitar pick stylus.
Music playback includes protected
WMA
,
MP3
,
AAC
and there is word that the phone can use
Windows Media Player
11 as its on-board player.