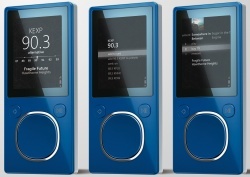 Last week we reported that
Microsoft Zune revenue had fallen over $100 million USD year-on-year from 2007
.
Microsoft has now spoken out about the numbers and says that the huge drop in revenue was "unexpected."
Zune Director of Marketing Adam Sohn, when asked what factors led to the decline, added:


"Some of them are environmental. Everyone knows that the economy is not what it was a year ago, and that is hurting some folks. We are in a position where the category is also shrinking. So I think those are things that affected everybody's sales, including Apple."

Sohn also noted that the software giant did not use aggressive marketing with their third generation Zune devices. Many consumers will argue that there was in fact, no marketing to speak of.
The director did add that new Zune products were coming soon, and that development was "fast and furious."

"Every time anything comes up, there is a set of people who pull a Chicken Little and say, 'The sky is falling. Zune is dead,'"
Sohn
noted
.
"The fact is we are on track to deliver the next generation of Zune innovation in software and hardware."
Apple
, despite a reported 15 percent decline sales, continues to dominate the
MP3
player market with a hefty 70 percent market share. Most reports show Microsoft as having 3-5 percent market share.