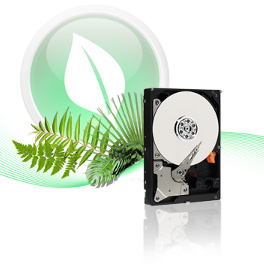 Western Digital
has just announced a new SATA II hard drive with a whopping 2TB (2 trillion Byte) capacity. The company says not only is it bigger than other hard drives on the market, but it also uses less power.
"With the launch of the new WD Caviar Green 2 TB hard drive, customers receive the additional capacities needed to operate today's highly advanced programs and high-resolution digital files while using less power than typical drives with similar performance and capacities," said Western Digital senior vice president Jim Morris

According to the company's website, power usage of the highest capacity Caviar Green is just barely better than previous models (Caviar Blue and Caviar Black) during Read/Write operations. Where it really seems to shine is when it's idle. While earlier models use nearly the same power whether they're doing anything or not, the Caviar Green's power drops by nearly half.

When comparing Caviar Green hard drives with similar specs to their Caviar Blue and Black predecessors the difference is much more pronounced. According to the website a 1TB Caviar Green drive with 16MB of cache uses about 64% as much power as a comparable Caviar Black. When idle it uses just 36% as much power.