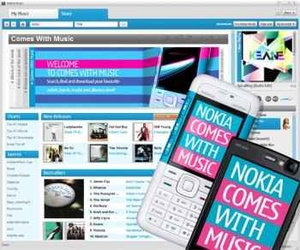 Nokia
's Comes With Music bundles a subscription music service for unlimited downloads from a limited catalog of songs with select handsets. As access to the service spreads
to new markets
is it possible
Nokia
will convince labels it should come without DRM?
Nokia
's Adam Mirabella has
hinted
at plans to do exactly that, saying
"Digital Rights Management-free (DRM-free) is also on the roadmap for the future integration of Comes With Music."
DRM-free music has become the norm for individual song downloads, like those offered by iTunes and other online merchants. But the labels continue to insist on it for subscription services like Comes With Music.
While DRM theoretically stops people from making unauthorized copies, if you can use Google you can probably find a way to remove it. But unless you decide to do so you'll have problems playing DRM-laden tracks on most hardware.
In the case of Comes With Music you are limited to playing your music on just a single phone and one computer. At least they don't become unplayable as soon as your subscription runs out.
Although there are no official numbers available for how much Comes With Music adds to the price of a phone, the generally accepted estimate is about $90. For the same price you could buy at least 90 songs with no DRM restrictions from a variety of online music stores.