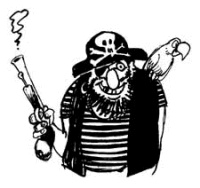 On August 26th, 27-year-old
Kevin Cogill was arrested on suspicion of violating federal copyright laws
. FBI agents say Coghill had nine unreleased Guns N' Roses songs on his site in June.
The blogger allegedly had been
streaming
songs from the still unreleased new Guns N' Roses album "Chinese Democracy" on his site for some time.
In November, Coghill
pleaded guilty to one federal count of copyright infringement
, a charge that carries up to one year in prison and a large fine. Federal prosecutors today have said they are pushing for a six month sentence for Coghill based on the "calculation of damages based on the illegal activity of as many as 1,310 websites that disseminated the music after Cogill released it."
The government has said the damages amount to $371,622 USD, basing each infringement on iTune's 99 cents per track cost. The
RIAA
, always one to create phantom numbers, believes the infringement amounts to a "$2.2 million loss based on a $6.39 legitimate wholesale value." These numbers of course imply that every person who downloaded the tracks would have purchased them legally had they not been available illegally, which we all know is not true at all. The government's almost 400,000 "conservative figure" was based on the following:
"This number is based on a sample of 30 out of 1,310 unauthorized web sites that offered the leaked songs to the public between June 19, 2008 and November 21, 2008. Of the 1,310 web sites identified as having unauthorized copies of the music that defendant streamed, 30 of those contained information showing the number of downloads from their sites. It is most likely that this number represents the number of downloads of the group of 9 leaked songs, for a total of 152,784 downloads of individual songs (16,976 x 9), tt is, however, not possible to say at this time whether the figure represents the group of 9 songs or individual songs. Giving the defendant the benefit of the doubt, the government will assume that the 16,976 figure represents downloads of individual songs."
The RIAA, always looking for a hand out, did say they would accept $30,000 USD instead of the $2.2 million they are seeking if Coghill
"was willing to participate in a public service announcement designed to educate the public that music piracy is illegal."