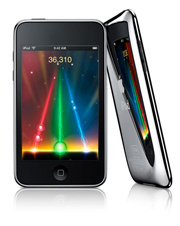 Apple
has been sued this week by the mother of a 15 year old boy who said his
iPod Touch
exploded while in his pants pocket, scorching his leg.
According to the complaint, the boy was sitting in class one day and "heard a loud pop and immediately felt a burning sensation in his leg."

The boy then "realized his Apple iTouch had exploded and caught on fire in his pocket. ....Plaintiff A. V. immediately ran to the bathroom and took off his burning pants with the assistance of a friend. The Apple iTouch had burned through Plaintiff A. V.'s pants pocket and melted through his Nylon/Spandex underwear, burning his leg," reads the complaint.

Plaintiff A.V has suffered second-degree burns thanks to the 'exploding' iPod Touch and is now seeking $225,000 in compensatory damages.

Apple has declined comment on the case.