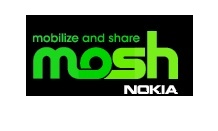 Nokia
describes its
Mosh
site as "a way to fill your phone with safe, free, mobile content like applications, games, videos, widgets, ringtones and more. You can also upload your creations and collect content to organize it for on-the-go access."
Since its launch in 2007, the site has become very popular, with users very happy that their exchange of content is uninterrupted and free. There has been over 137 million downloads since launch, a small number in comparison to
Apple's App Store
, but still notable as Nokia never advertised Mosh. The company is also very lax as to what can be shared on the site, unlike
Apple
which has a tough screening process.
Although no reason was given for the shutdown, most agree it is because the site operated under the
DMCA
safe-harbor provision which meant any copyrighted material is only taken down after a takedown notice is sent out. That rule had the potential to strain relationships with movie studio and the record labels as many users upload clips and custom ringtones.
Nokia did say portions of the site
will move onto the upcoming Ovi Store
, but all user content will be deleted when the site shuts down.