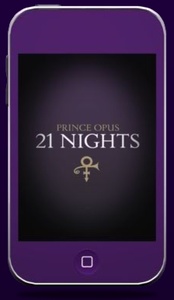 The British publishing company
Kraken Opus
has announced it will be selling 950 special edition purple
iPod Touch
devices, each preloaded with 40 minutes of
Prince's
"21 Nights" 2007 tour in London as well as the live soundtrack from his "Indigo Nights" album.
Also coming with the Touch is the "Prince 21 Nights Opus" photography book which chronicles "21 Nights" and includes lyrics and poetry from Prince. The book is 200 pages and weighs an "epic 17 kg." It is leather bound and has a velvet-covered case. What will this limited edition media player cost you? $2100 USD.
Kraken Opus CEO and founder Karl Fowler says that 300 of the players have already been sold.

"I'm ecstatic about that,"
he said.
"Without being overly confident or too arrogant about it, we always knew that we would get to a sellout position within a few months."
He added that the quick sales were surprising however.
Fowler also noted that he believes the price is justified by all the exclusives you receive.
"Even in this current climate, there was a thirst, a strong appetite, for people who were willing to part with a premium, because they are getting something that has never been given to them before,"
he
concluded
.