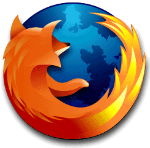 Mozilla
has released both a new stable
Firefox
update addressing a couple of security and stability issues, and also a new Beta version of the popular web browser. The new version changes and download links if needed, are below...
Firefox 3.0.10 -- Changes From 3.0.9
Fixed two security issues.
Fixed a major stability issue.
See the Firefox 3.0.9 release notes for changes in previous releases.
Download Firefox 3.0.10 from:
http://www.afterdawn.com/software/network_software/web_browsers/firefox.cfm/v3_0_10
Firefox 3.5 Beta 4
This beta is now available in 70 languages - get your local version.
Improved tools for controlling your private data, including a Private Browsing Mode.
Better performance and stability with the new TraceMonkey JavaScript engine.
The ability to provide Location Aware Browsing using web standards for geolocation.
Support for native JSON, and web worker threads.
Improvements to the Gecko layout engine, including speculative parsing for faster content rendering.
Download Firefox 3.5 Beta 4 from:
http://www.afterdawn.com/software/network_software/web_browsers/firefox.cfm