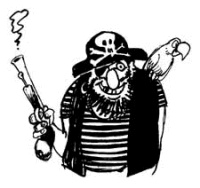 The
Promusicae
association, which encompasses Spanish record labels as well as international giants such as
EMI, Universal, Sony
and
Warner
has sued Spanish citizen Pablo Soto for $17.5 million USD, alleging that they profited handsomely from software that allowed the sharing of unauthorized music over the Internet.
Soto created three popular file-sharing programs and has admitted that he did make money from the programs but continues to claim innocence on the charge of "unfair competition," which is what the Big 4 is claiming.
In Spain, downloading free music is not illegal unless it is found to be for commercial use, so the Promusicae may be facing an uphill battle in court.
Soto feels the media companies are now targeting program designers as a way to make money after failing to win cases against alleged file sharers who downloaded music for personal use. Fans of the file sharing networks also claim that the companies already make up the "losses" claimed by the record labels through the so-called "iPod Tax" which means all Spanish citizens pay a small levy on any new
CD
,
MP3
player or phone purchase.