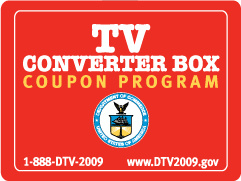 In January, the US Government postponed the mandatory
DTV
transition from February until June 12th, as it was clear that
over 6 million households were not ready.
Today, the federal Department of Commerce has said that if you are still unready and have not applied for a converter box coupon, you should do so no later than Monday, or risk having no TV signal by the time of the transition.

Every household can receive two $40 coupons to use towards the purchase of converter boxes, and more information about the coupons can be found at 888-DTV-2009 or www.DTV2009.gov.

As of May 10th, Nielsen estimated that there are still 3.3 million households not ready for the transition.