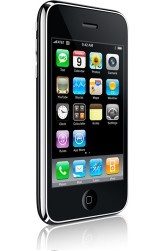 Apple
has released the much anticipated
iPhone/iPod Touch
firmware
version 3.0 today, adding over 100 features to the current 2.2.1 software.
iPhone owners can download the software for free through their phone while Touch users will have to purchase the update first for $9.95 through the App Store.
Apple Insider
gives this list:

* Cut, Copy & Paste: Quickly cut, copy, and paste text from application to application. Select entire blocks of web text with a tap. Copy and paste images from the web, too.

* Landscape Keyboard: Rotate iPhone to landscape to use a larger keyboard in Mail, Messages, Notes, and Safari.



* MMS: Send MMS messages and include video, photos, audio, and contact info. Even tap to snap a picture or shoot a video right inside Messages. MMS support for U.S.-based AT&T customers won't be available until late summer.

* Spotlight Search: Find what you're looking for across your iPhone, all from one place. Spotlight searches all of your contacts, email, calendars, and notes, as well as everything in your iPod.

* Voice Memos: Capture a memo, a meeting, or any audio recording on the go. Voice Memos works with the built-in iPhone microphone or with the mic on your headset.
* Improved Calendar: Create meetings via Microsoft Exchange ActiveSync and subscribe to calendars with new CalDAV support.

* Buy Movies, TV Shows, and Audiobooks: Download movies, TV shows, music videos, and audiobooks from the iTunes Store on your iPhone.

* Safari Improvements: Enjoy faster performance, autofill user names and passwords, and more.

* Internet Tethering: Share your Internet connection with your laptop with Internet tethering via Bluetooth or USB. Tethering is not currently offered in the U.S. and some other countries.

* Stereo Bluetooth: Connect compatible Bluetooth stereo headphones, car kits, or other accessories.

* Automatic Wi-Fi Login: Log in to a Wi-Fi hotspot and iPhone automatically logs you in when you connect again.

* Sync Notes: Never leave a note behind. Now you can sync all the notes you write on your iPhone back to your Mac or PC.

* Parental Controls: Decide what music, videos, and apps your kids can access.

* iTunes Store Account: Create and log in to one or more iTunes Store accounts directly from your iPhone.



* YouTube Login: Log in to your YouTube account to save and sync bookmarks and rate favorites.

* Shake to Shuffle: Give iPhone a shake and it shuffles to a different song in your music library.

* New Languages: iPhone supports 30 languages and more than 40 keyboard layouts.

* MobileMe Find My iPhone and Remote Wipe: Find your iPhone if you lose it and protect your privacy with Remote Wipe.

* Run the Latest Apps: Run the next generation of iPhone apps, like peer-to-peer games and more.