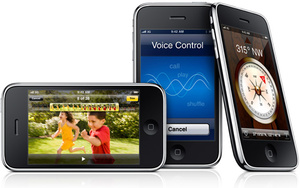 Apple
has announced today that the company has sold 1 million new
iPhone 3G S
units its launch weekend. Additionally, over six million customers have downloaded the new iPhone 3.0 software in its first 5 days of release, choosing to upgrade their iPhone or iPod Touch.
"Customers are voting and the iPhone is winning,"
added
Apple CEO Steve Jobs.
"With over 50,000 applications available from Apple's revolutionary App Store, iPhone momentum is stronger than ever."
The upgraded iPhone is the most powerful yet, and includes a 600mhz processor, a higher
megapixel
camera, hands free voice control, a more smudge-resistant screen and many new features that use OS 3.0 but do not function on the original iPhone 3G.