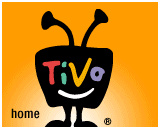 Just weeks after their patent victory over
EchoStar
,
TiVo
is getting ready to expand substantially, says sources talking to
Bloomberg
.
The
DVR
maker is in talks with PPV providers in an effort to "allow its recording directly or else to license out the technology for third-party hardware or software."
Other details are still vague, but it is clear the service will be different from online-based ones such as Netflix or Amazon VOD.
Additionally, TiVo is looking to have its service directly connected through
Time Warner
, possibly even creating a new Time Warner-exclusive set-top.
Negotiations are still ongoing with nothing set in stone.