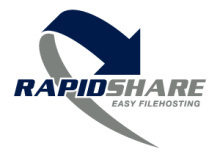 A Berlin court has today ruled against the file-hosting giant
Rapidshare
, siding with the German copyright society
GEMA
.
As part of the ruling, Rapidshare must now "proactively filter" over 5000 tracks from GEMA's catalog and make sure they are not distributed on their servers.

"This means that the copyright holder is no longer required to perform the ongoing and complex checks,"
GEMA
added
after the ruling.
"We are confident that in this way we will be able to reduce the illegal use of the GEMA repertoire on the Internet to a negligible level."
Rapidshare seemed unfazed by the decision.

"We do not consider the court's decision to be a breakthrough,"
RapidShare COO Bobby Chang said.

"As other proceedings in similar disputes with GEMA have shown, there is considerable disparity amongst the individual courts in some cases. Our experience is that the courts of appeal tend to restrict the scope of the decisions made by the lower courts."