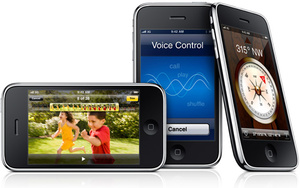 Apple
has discretely admitted to
iPhone
overheating issues today, adding a warning to its support pages acknowledging that some iPhone 3G and 3GS indeed overheat.
The problem seems to stem more from the newly launched 3GS, with tons of reports coming in claiming the overheating occurs in many various environments. Some of the reports, such as those coming into
PCWorld
, have even said that the back cover of the iPhone has become discolored in under a week due to the
heat
issues.
Although there has been no official admission of an overheating problem, the warning at least acknowledges that there is a problem. Who does Apple blame however? You, the iPhone 3GS owner.
The warning says that the phone is not meant to function properly if the temperature is above 113 degrees Fahrenheit and tells users to not leave the phones in parked
cars
.
Says the warning
:
"If the interior temperature of the device exceeds normal operating temperatures, you may experience the following as it attempts to regulate its temperature: the device stops charging, display dims, and/or weak cellular signal."
You should probably listen, if you don't want the dreaded Temperature Warning screen: