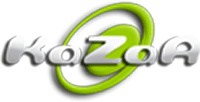 Kazaa
, one of the most notorious
P2P
software of yesteryear is set to make a comeback in 2009, this time as a legal subscription music service.
Sources speaking to
Cnet
say the rebirth could happen as soon as August and will turn the once
infamous
unauthorized downloading hub into a new subscription service with catalogs from the Big 4 labels.
Unlimited downloads will cost $20 USD a month and the store is expected to open with over a million tracks available.
Napster
, the original file sharing site to feel the wrath of the record label, reopened as a legal music store in 2003.