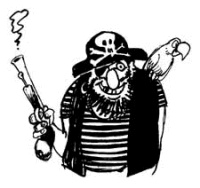 Back in 2006,
EliteTorrents
admin Scott McCausland
received five months in jail for his part
in the pre-release upload of
Star Wars Episode III
. After his sentence however, he was put on a government monitoring list, and forced to wear an ankle bracelet and have his computer monitored at all times.
This week however, he has finally come off that monitoring list, and is off probation.
Says McCausland, via
TF
:
"I have officially been off probation since July 12th. What a great feeling to finally be free from the clutches of evil (or the federal government). It was actually a really easy time on probation. It was 2 years, dealing once a month with my probation officer… who was really a great person."
"I haven't had a clear head since May 25th, 2005. Over 4 years of what I would call the worst period of my life is over,"
he adds.
Following in the footsteps of other big name "pirates"
such as Peter Sunde
, McCausland hopes to move on and forward with his life.

"I will be hopefully starting back to school for my MBA in the spring. And I am getting married in May 2010. Aside from the economy, I couldn't ask for anything more,"
he concluded.