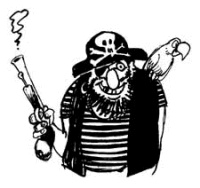 Kyrgyzstan's largest
torrent
tracker
,
Torrent.kg
has been shut down this week over copyright infringement violations, with police seizing all of the site's servers.
The country, which borders China, has a population of 5.5 million, many of which use torrents for movies and music.
The site, when taken down, read:
"For reasons beyond our control the site is temporarily suspended. The administration hopes for a speedy solution to all problems. We apologize for any inconvenience caused."
The owner of the site, via the site's forum, says he expects the site to be back up soon, and is asking users to not remove any torrents from their clients as of yet.
Adds Tolkun Umaraliev, a blogger from Kyrgyzstan, via
TF
:
"Piracy cannot be stopped in Kyrgyzstan, because people – consumers – do not really know what piracy is, and that it is illegal. Since the fall of the Soviet Union, our market has been filled with underground VHS cassettes of Hollywood movies poorly translated into Russian and underground audio cassettes of western singers. And their prices were reasonable – consumers could afford them."