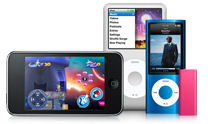 Speaking to the
New York Times
,
Apple
CEO
Steve Jobs
revealed that the
iPod Touch
did not get a camera upgrade in the new 2009 iPod line-up for marketing and cost reasons. Basically, Jobs said that Apple is marketing the iPod Touch primarily as a gaming device now, and that it was important to be able to offer a relatively inexpensive portable device to compete in the market - a camera would apparently have caused some problems here.
The cheapest iPod Touch now costs $199, and includes 8GB of storage capacity. However, it should be noted that the latest iPod Nano models got a camera upgrade without having a negative effect on the price. Even outside Apple there are contradictory examples, such as the dual-screen, dual-camera
Nintendo DSi
, which sells for $170.
More possible bad news for anybody looking to buy an iPod Touch is that it appears the 8GB model
might not be getting
an upgraded processor and graphics capabilities like the iPhone 3GS, and the new 32GB and 64GB iPod Touch models.
"Originally, we weren't exactly sure how to market the Touch. Was it an iPhone without the phone? Was it a pocket computer? What happened was, what customers told us was, they started to see it as a game machine. We started to market it that way, and it just took off,"
Jobs said.
"And now what we really see is it's the lowest-cost way to the App Store, and that's the big draw. So what we were focused on is just reducing the price to $199. We don't need to add new stuff. We need to get the price down where everyone can afford it."