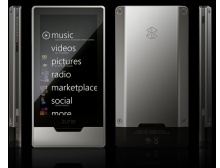 According to
Electronista
, the
Microsoft Zune HD
is seeing extremely high sales so far since its launch on Tuesday, with many big retailers already seeing backorders or complete sell outs.
Dell
customers have to wait until November for their pre-order Zunes to ship, and dell has even offered another $20 USD off the purchase price to keep people happy.
The 32GB model at
Amazon
is backordered for 1-3 weeks, and the 16GB model appears to be headed there soon as well.
Best Buy
is backordered in both models and
Fry's
is completely sold out of the 16GB unit.
However, the official Microsoft store is selling both models with no supply constraints.
You can read our review on the player here:
Unboxing the Zune HD and Zune software 4