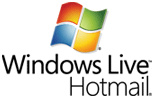 Yesterday, we reported
that over 10000 Hotmail login details
had been leaked to the Web, and that
Microsoft
was investigating the issue.
Today, the software giant has blocked all access to to the leaked email addresses, apparently the result of a giant phishing scheme.
"Several thousand Windows Live Hotmail customers' credentials were exposed on a third-party site,
" added Microsoft in a statement.
"As a result of our investigation we are taking measures to block access to all of the accounts that were exposed and have resources in place to help those users reclaim their accounts."
Additionally, reports have been surfacing that the same hackers targeted
Yahoo
and
Gmail
accounts, and users are being told to switch their passwords if they believe they fell
prey
to the phishing scam.

"We determined that this was not a breach of internal Microsoft data and initiated our standard process of working to help customers regain control of their accounts,"
Microsoft concluded also.