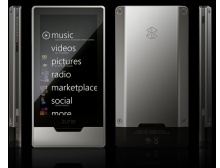 Microsoft
is considering bringing the
Zune
software and marketplace to Mac users, says a recent
ZDnet
post, although there is no timetable for a release, if a release even occurs.
The word comes from Jose Pinero, Director of Communications for Microsoft's TV, Video and Music Business.
"We are evaluating a lot of options in terms of platforms,"
said the director, when asked about iPod users who did not necessarily want to use
iTunes
, and preferred subscription models.
Pinero also noted that "the addition of the ability to stream music from a browser that is part of the new
Zune 4
.0 experience, Mac and
Linux
users already can stream music to their systems if they have a ZunePass subscription. The
streaming
capability isn't limited to Internet Explorer; it works with any browser."
Finally, does Microsoft care about beating the iPod in hardware sales. No.
"Zune is a music and video service from Microsoft. Period,"
said Pinero, via
ZDnet
.
Check our Zune software review here:
Unboxing the Zune HD and Zune 4 software