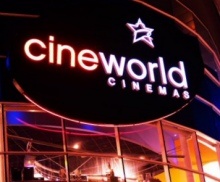 According to "professional speaker and TV reporter" Jeremy Nicholas, the UK movie theater chain
Cineworld
has banned notebooks from their theaters, in an effort to stop piracy.
Despite his notebook not even having a camera, Nicholas was told to leave his expensive device with the management and collect it after, and offer he refused.
Says Nicholas, in his
blog post
:
"[The manager] explained that it's a new policy to cut out piracy. No-one is allowed to take laptops into Cineworld cinemas anymore.

I pointed out the lack of webcam on my laptop and he said he would make an exception in my case and let me in. He maintained his staff had been correct in refusing me entry as it was a new policy."
Apparently, Cineworld was just following the advice of
FACT
(Federation Against Copyright Theft) which was giving the same advice to most large UK movie chains. However, Nicholas' smartphone, with video recording ability, was allowed into the theater, as were other patrons, one lady who even had a Flip video recorder in her bag.
Nicholas concludes:


I have a few things to say to Cineworld.

1. If you treat your customers like this, they will go elsewhere.

2. There are many more efficient ways of recording a film than via the webcam on a laptop.

3. Many people carry a laptop or netbook these days. They will not all go straight home from work, some may come straight to the movies.

4. I go to the pictures a lot. I love the Cineworld Unlimited card. It's a great deal for movie lovers. I have been a real evangelist for it and have persuaded friends and family to sign up for it. Equally if this computer madness continues, I will tell as many people as I can about it.

The good news is after treating me like a a potential villain they let me in, and with my laptop.